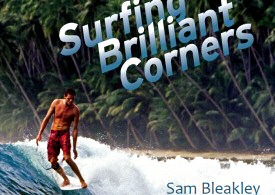 A book worth reading if you're looking for a one-man jazz-infused tip-toe along the road of life.
Sam Bleakley breaks the mould. I've never met him or spoken to him, but I think I'd like the fella. Sent to us a couple of weeks ago, his new book 'Surfing Brilliant Corners' dropped through the internal mail, and landed on my desk at Drift. I don't know what drew me to the book, but I've been reading it over the last few weeks and it's genuinely interesting.
Sam simply shares his past, his present and his frequencies with us, which is worth sharing. He's well travelled, a Cambridge alumni, and speaks with soft tones. Sam travels from his birthplace in West Cornwall to Indonesia and the Philippines; through vibrant West African highlife in Ghana, to war-damaged Liberia; to Mauritania, where landmines litter access to some of the best waves on the planet; to a serene Buddhist oasis in Communist China; to Ecuador, Oman and Haiti, whose complex culture seeps into his psyche and captures his heart. He looks deep into the jet-black eye of a surfacing shark in Kenya, and faces a stacked set of foaming lips during typhoon surf in South Korea.
Unexpectedly he uses his interest in jazz as a vehicle, sometimes a metaphor for surfing and his relationship to it, the title drawing on Thelonious Monk's 1956 LP 'Brilliant Corners'. "Surfing," he says, "has opened me up, split my skin, widened my horizons, and closed me down, because any obsession restricts your involvement in other aspects of life."
I could go on, but I enjoyed it and I think anyone reading Drift probably would too. Some things are best left unspoken, just go get yourself a copy and see what you think.
[imagebrowser id=45]