Unless you're just starting out it's highly likely that you have formed or you're in the process of forming preferences towards what you see as a "good surfboard". These preferences guide the choices you have made or will make in the future regarding the boards you ride, but how do we make these decisions?
What leads us to believe that one brand or one design is better or more credible than another? It would be logical to suggest that our opinions are mainly formed through personal experience, but that's not always possible. It's difficult and expensive to access every brand and design and try them personally.
This leaves us with little alternative other than to try and filter information that is fed to us by media and marketing, or information that is handed to us by others through word of mouth.
Let's look at the variables:
Materials?
Since the collapse of Clark Foam in 2005 a handful of companies worldwide produce and serve the industry with surfboard blanks.
The same goes for resins and fiberglass cloth.  Regardless of brand, standard PU construction surfboards built in the USA, Australia and Europe are usually constructed from very similar quality materials. Custom EPS and epoxy solutions are sometimes offered as stronger/lighter and possibly more environmentally friendly options, but this is a 'work in progress' at this stage.
I have seen outstanding examples of this put to use, but also some horror story versions!
Expertise?
The skill and level experience of the craftsman is and enormous factor in the quality, design and function of a surfboard. The construction of the board must be good to ensure the durability and life of the board.
So as to create a functioning design, shaping accuracy is all important. Functional design has to be the product of testing and quality feedback as well as years (often decades) of personal trial and experience.
Method?
Surfboards are shaped by hand, but more and more boards are being produced on shaping machines. The ethics of this is a separate debate, but in the interests of design and function a machine shaped board can still be as good as a hand shaped surf board providing the other elements listed above are in place.
No amount of machine accuracy will conceal lack of consideration or low levels of design knowledge and shaping skill.
Finish?
How and by whom a surfboard is finished is important to how the board looks, but also to it's longevity. There are also lower cost finishes such as Speedcote (spray lacquer) which cost less and are light weight, but over time will cut short the life of the board compared to the slightly heavier, more costly resin finish (Gloss/Hot coat) boards.
Glassing also plays a huge part in this, a good glass job will add years to the life of your board. The lighter the glass, the lighter the board, but the more likely it is to snap or be less durable longterm. That's a performance over durability choice that you have to make, but really get what you pay for with this one.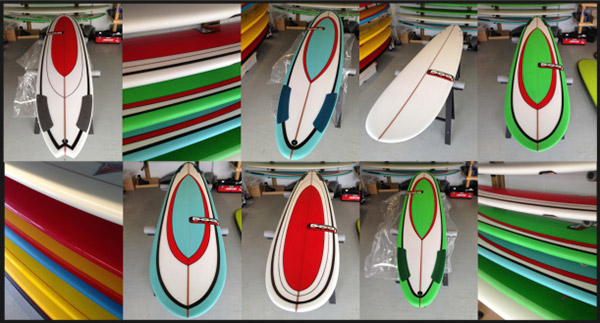 So… where does this leave us?
The surfboard market offers a minefield of options and often the surfer is left tip toeing through the situation at risk of making a hugely expensive error, but all is not lost. My advise to you is this:
Speak to a shaper or shop guy that surfs the type of board you're interested in. There is no better testimony to a surfboards' design than if the guy taking your money rides one too.
Seek out heritage, go for shapers/brands that are time served and have a large amount of boards under their belt. Opt for board builders that have built a sturdy reputation in the place where you surf.
"Good surfboards aren't cheap and cheap surfboards aren't good."… live by this you won't go too far wrong.
"It's what the pro's ride", this can be very misleading. These guys are next level and what they chose to ride can be completely wrong for the average Joe like you or I.
Make sure your equipment is relevant. Relevant to your ability and relevant to where and how you want to surf .
Check the origin of the surfboard. As surfing has exploded into the mainstream over the last two decades some large brand names from Australia and the USA are now reproduced in the far east without the named shaper ever touching them. These boards still command a premium, so it's good to know exactly what it is you are buying. If in doubt, ask.
If you want a board to function in a wide range of conditions, keep it simple! The more specific the design features added to a board the more specific its use.
Be your own test pilot. Speak to friends and other surfers, even better try their boards.
Think design and relevance over branding and 'cool'. Feels rad pulling an amazing looking board out in the car park, sucks when you burn hours in the surf trying to make it work.
This is by no means everything, I just wanted to answer some of the questions I get on a regular basis. I hope this offers some information that will allow you to make a more informed choice when it comes to buying your next surfboard.
Words and images by Ciaran McQueen owner and longboard lover of www.nomadsurfstore.co.uk