When travelling we live in this dream life – your mind is wide open to all things beautiful, alert for the moments that bring you perfect happiness and set your thoughts free. But the pieces of paradise that offer these unique experiences are so often on the edge of something detrimental, whether it's a natural disaster, political instability or simply over-exploitation by the very people who come to enjoy it.
Dane Peterson and Belinda Peterson-Baggs report on their mission to bring aid supplies to Indonesia.
*Every Thursday (#TBT) Drift is republishing a timeless feature from the archives… enjoy
Maybe it's something to do with surfers' innate connection with the sea, but while we will often turn a blind eye to the foreign and destructive traits tourists bring and ignore the difficulties of people eking out an existence in the face of political adversity, we have all been deeply moved by the after-effects of the Indian Ocean earthquake and resultant tsunami. It's impossible to forget the torture and anguish that was endured and is being overcome in the worst-hit areas of Indonesia, Sri Lanka and Thailand.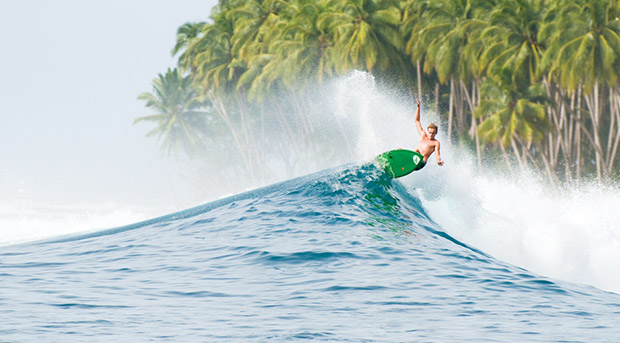 It's been nearly four years since this natural disaster claimed so many lives and ruined even more. Hundreds of thousands of people were killed and our hearts went out to all the victims and their families. But what now? Those people who survived have to start over and rebuild their lives, while every day living with the knowledge that, in all likelihood, there will one day be another equally devastating tsunami. It's a fact of life for those indigenous to this area of the Indian Ocean, which is subject to many volcanic eruptions and earthquakes.
We take their waves whenever we can, but we're trying to give the people something in return, something that they need as much as we need those perfect moments on the ocean
Busy making preparation for the next natural disaster while living in the shadow of our Earth's immense and uncontrollable power, these people are caught in the crossfire in a civil war with Mother Nature. But these people are our reason for doing what we do; it's our way of giving something back to the places we visit. We take their waves whenever we can, but we're trying to give the people something in return, something that they need as much as we need those perfect moments on the ocean. We cleanse our souls by helping, and that's why when we pack up and hit the road we always take more than we need, making sure that what we leave behind is of vital use to the people we meet.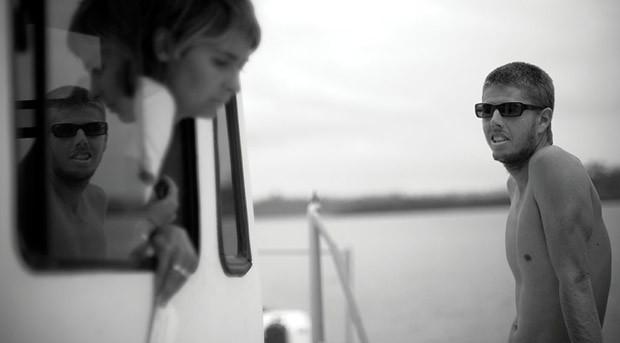 And that's how I came to be struggling down the back alleyways of Padang's marketplace, sweat dripping off me, arms full of footballs and neck draped with fishing line. Through the chaos I have  managed to clear a path for the boxes of supplies that are being marched  behind me. With some help from our friends, our party has collected relief supplies for the families we will meet during our pilgrimage.
Dawn, and the sun finds us far away from the unhinged racket of Padang harbour; the sweet aroma of banana pancakes fills the galley. We're aboard the DeBora, which cruises at a steady seven knots and has brought us almost to paradise. For us guests the anticipation of that first surf bears a heavy burden – we've been studying wave reports, weather maps, buoy readings vs movement of the clouds; but breathing with the swells and following your instinct wins every time. As it begins to rain the weight is lifted from our shoulders by the sound of the Nyanyian Hujan's (which translates as 'Singing in the Rain') two 175hp engines bursting into life. At the time of our trip this is the newest and fastest boat in the area, and transports us at warp speed to the first of destinations – wedgy right peaks running into a long bay of palm trees, white sand and crystal clear water. Welcome to West Sumatra…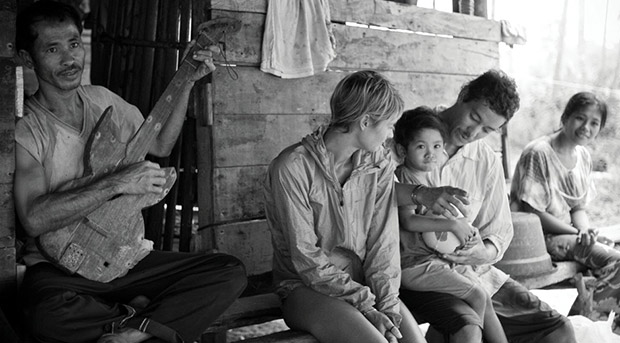 This was Harrison and Dane's first trip to Indonesia, and what an introduction it was – sunny skies, light NW winds and a mid-sized swell welcomed them with open eyes. For the rest of our gang – Jay, Pix, aK and Harold – it was like visiting an old and dearly loved friend, and for the boat crew it was nothing more than another day in paradise.
Small lines trickled into a glassy bay, dispersing on a reef with the potential to make fantasies come to life
The swell dropped another notch and the devil wind blew out of the south. I crossed my fingers as we rounded the last headland, full steam ahead. Small lines trickled into a glassy bay, dispersing on a reef with the potential to make fantasies come to life. Today though, petite perfection met a shoreline from the set of The Blue Lagoon. With half a dozen peaks to choose from and a log yearning to glide I was right where I wanted to be: kicking out in a channel that adjoined an unnamed right. Shallow and intense, this wave kept Harrison's appetite for barrels at bay, but as it laid claim to Dane's 5'8″, an Alaia and several scrapings of flesh, we learnt the hard way that this wave was best left for the high tide.
Late that afternoon there was an unexpected death in a small village to the far north of the island chain we were visiting. The religious ritual in these parts is that the body must be buried on the same day as passing – with the family scattered almost 100 miles apart, the swiftness of Nyanyian was committed to transport the grieving relatives to the funeral.
The DeBora and Nyanyian Hujan endeavour to bestow their resources on local communities, lending assistance in times of need. Their thanks is knowing that their presence has a positive effect on the region and seeing the countless smiles returned.
Nestled among the high palms on the shore, small huts house large and extended families, and it's for them that we have brought with us supplies that include milk formula, feminine hygiene products and footballs. It is evident that what we take for granted – standards of cleanliness and hygiene that we tend to see now as simple common sense – are not widely appreciated here. A major issue that seriously affects the health of small babies is the mothers in the community sharing breast milk. Translating between a thousand different dialects and using international sign language to indicate that this woman's 'magical boob' is making someone else's baby sick can be a difficult task, but after much laughter I think we were understood. Then we got to the fun stuff – explaining why it is bad to use the same river you drink from as a toilet.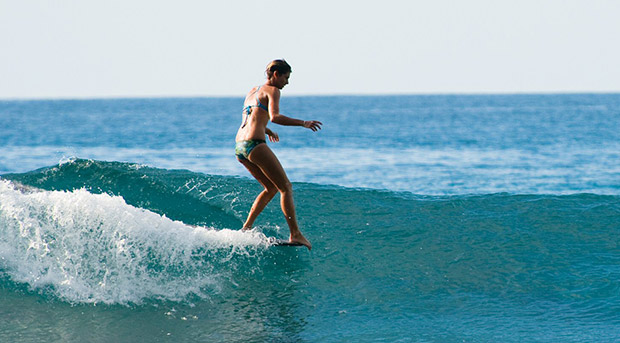 With the small swell the days grew long. The luxury of DeBora kept us out of the sun but we weren't here to watch movies in an air-conditioned boat – there's so much more to see and do. Litter picking, for starters. Glamorous it ain't, but it's got to be done. Thousands of bottles and other rubbish washes up on Sumatra's shores – we filled three large bags during a sweep for plastic, glass and cans over an area of shoreline just 200m wide. Most of the rubbish is created locally; small towns suffer from a lack of infrastructure and so have no means of waste disposal, but it's also dumped from the decks of both fishing and charter boats.
Making money from the ocean alone, the DeBora has a system in place to create less trash and separate what there is for recycling in port
Making money from the ocean alone, the DeBora has a system in place to create less trash and separate what there is for recycling in port. For example, as a guest you're encouraged to use one drinking bottle and refill it each day; when you calculate the amount of water you drink per day multiplied by the number of bottles it takes to hold this volume of liquid, multiplied by the number of people on the boat it would save, on average, 840 500ml bottles per trip. That's just one small way to consume less and not add to this ever-increasing global problem.
An early morning troll saw the GPS fish-finder ignite as a triptych of coral trout, Spanish mackerel and Giant Trevally (GT) were hooked at the drive through and practically reeled onto our plates. After a hearty feed the decision was taken to go ashore and disperse the remaining aid supplied we had on board. Right on cue we crossed paths with the tiny village's entire population of school kids. Once the remaining supplies were dished out evenly among the children we felt it was finally time to sit back, relax and let our final hours in this little part of paradise unwind in the same repetitive pattern it had begun. From the line-up, DeBora's high bow began disappearing between swells, and by mid-morning the waves had tripled in size. Just after noon the wind swung round and began humming offshore; to our delight the shallow reefs came to life, waves appeared out of deep water, doubling up and bending against a draining ledge. This was one day in our lives we would never forget.