Renowned for his unique blend of old and new log riding CJ Nelson has been at the forefront of the new glide scene since its rebirth in the 1980s.  His famously prodigious nose riding assured him a place in Thomas Campbell's canon of new long boarding films, but today the Santa Cruz native finds himself little more peace amongst the peaks of Mexico and the pages of Buddhist text.
Drift's Matt Button speaks to CJ about life and lessons on the Pacific West Coast…
Do you remember a time when you weren't surfing?
For the most part I have always surfed. My dad was a surfer so my earliest memories with him were at the beach. I rode waves on boogie boards and worked my way up to surfboards around five years old. I had some alcohol addiction problems and went through some dark patches a few years back where I didn't really surf. Scary times for me that I'm glad are over. I've been four years sober and I surf every day now.
Join 20,000 Surfers
Get our weekly newsletter and never miss a thing
Who were your surfing heroes growing up?
It's weird who you pick to be your heroes when you're a kid. All the local boys at Pleasure Point were my heroes. Gnarly guys who partied harder than they surfed. It's funny because I became that for a while and was miserable. For some reason I chose to look up to drug addict skaters, surfers and musicians and spent a lot of years trying to act like them. Now that I'm on the other side of all my personal addictions that were caused by looking up to the wrong guys, I can laugh at the irony. Now my main hero and teacher is the Dali Lama and a few authors like Eckhart Tolle who teach Mindfulness and Meditation. It's amazing what a clear healthy mind does to ones character. Needless to say I'm much happier now.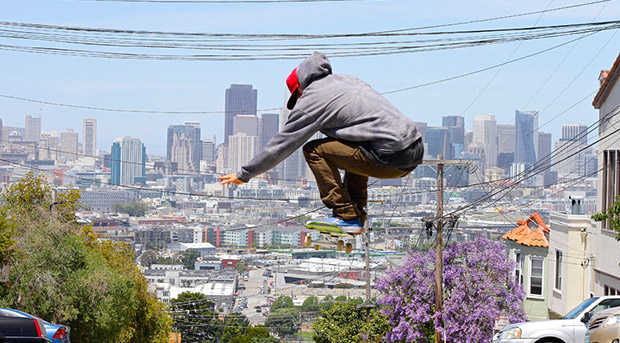 What about today's logging crew?
As far as the logging crew of today is concerned, I'm blown away. They are all my heroes and I study and watch them constantly. Alex Knost, Jared Mell, Mick Rogers and James Perry are so fun to watch and great folks to be around too. I've been around the longboard scene since the resurgence in the late 80's and I'm so stoked on where it's all ended up. I'm stoked on being a part of it.
Jazz pioneers famously inspire Joel Tudor, so besides surfers are there any artists, musicians, scientists or thinkers and reamers that fire your passions?
When I was a kid my father gave me a stack of books on Buddhism and Zen. It's weird because I read all of them over and over my whole life but just since my recent sobriety I'm starting to really understand and practice their art. It's been amazing and the teaching priceless to me. Learning how to live in a state of mindfulness has taken me to new heights. My surfing is evolving and growing as my Buddhist practice does. One person who has stood by me and helped my growth as a person is Thomas Campbell. He's so passionate, honest and peaceful. He leads by example and I appreciate him immensely.
Is there such a thing as a standard Nelson day?
I've lived a crazy life and the reality of a standard Nelson day has changed quite a lot. A normal day in my life is really normal now. Coffee, books, stretching, surfing, meditation, organic health food and being surrounded by people I love and look up too is my world. I'm blessed to be where I'm at right now.
You grew up on the wave rich West Coast but when you get a chance to escape do you have a Plan A? What about Plan B?
I have a home in mainland Mexico that I love to escape to. I'm actually headed there in the morning. It's a retreat that I visit frequently and have for years. My plan B is Australia. My shaper Ian Chisholm lives there and going to work with him is a real blessing and escape for me.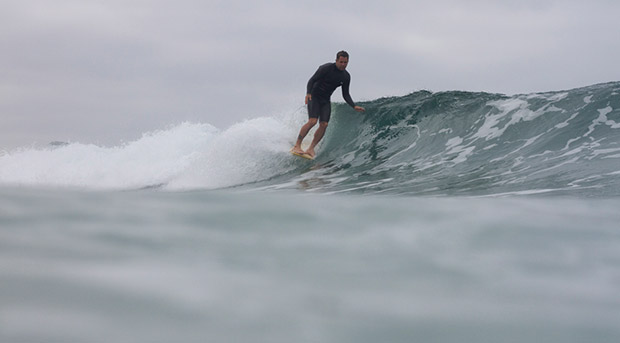 Everyone has a boast about his or her best session ever. I'm gone to go out on a limb here and say yours is better than mine?
I'm asked this a lot and always say the same thing. My best sessions are dictated by who I can share them with more so than the quality of the surf. I value every surf as a time of quiet concentration where my mind can focus on the purity of the slide. We all share that same feeling. Maybe mine is spent performing at a higher level, but the values and feeling behind it are the same for everybody. We are all equals at our foundation.
Having seen you summer logging at Malibu you spend a lot of time on the nose (sometimes up to a fortnight it seems). What do you think about with all that hang time?
For a while there I was so focused on nose riding I lost track of all the other important aspects of surfing. I built all my boards to nose ride exclusively which ended up holding me back in the long run. It was the new generation of loggers that opened my eyes and liberated my surfing from my stale state. Noseriding is cool but it is just on ice cube in the cocktail of logging.
I found out my great grandparents were born and raised in the UK. I'd like to visit these areas and surf
Having surfed in the mildly frigid waters of Santa Cruz have you ever felt the need to explore our invitingly brisk seas?
I would love to come to the UK. After my dad's side of the family passed away I inherited all my family records and what not. I found out my great grandparents were born and raised in the UK. I'd like to visit these areas and surf. James Perry is a fantastic surfer and human so spending time with him over there would be amazing too.
In the UK there is a definite zeitgeist of cold water surfing (as if we have any other choice). There's a lot of interest in the empty waves of Iceland, Norway and Canada. Is there a parallel in the West Coast scene? Oregon, Washington etc
For sure. A lot of people are heading north from California. With wetsuits getting better and crowds thicker I think it's just a natural progression. Good waves are good waves warm or cold. I'm all for it.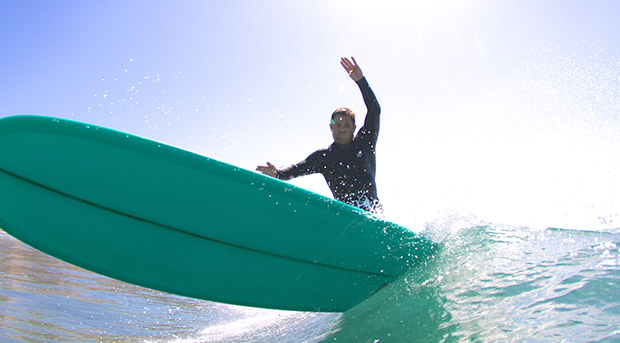 Who should we be looking out for coming through the logging ranks, guys and girls?
This is a hard one because there are just so many fantastic surfers coming up. Speaking on behalf of Santa Cruz only, there is a kid named Reilly Stone that may be the smoothest log rider to come along since Joel.
there is a kid named Reilly Stone that may be the smoothest log rider to come along since Joel
On a quick competitive note? If King Kelly retires is there really any validity in world title on a post-Slater ASP/WSL?
I think there is for sure. It's good that Kelly goes and we move forward. It's been amazing and I'm glad to have grown up during his reign. It's time for the kids to step up and entertain us for the next 20 years.
If we made you Lord Mayor of UK surfing (with all associated pomp and amateur corruption) what sweeping changes might His Majesty put in place?
The only thing that we, as surfers, need to have to keep the peace and flow in the ocean is a real set of rules and guidelines. We all know them but we all don't practice them. As surfing grows these rules will become more important for our sanity and safety. I'd love to see them enforced everywhere.
Is there a Nelson manifesto?
"Live simply, simply live"