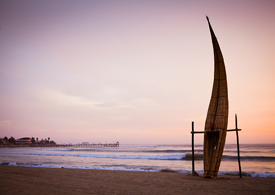 Punta Huanchaco became a World Surfing Reserve in October last year due to the two thousand year old wave riding and seafaring history. Here's an insight into this fascinating little town drawn from when we stopped there on a road trip recently.
The wave riding reed boats of Huanchaco, called Caballito de totora, have been used here for fishing since around 100AD. The coast receives so much swell that it was necessary for the early fisherman to create a surf craft that allowed them launch from the beach then ride the waves back to shore with the catch. Today, local fisherman still paddle out daily on there reed boats and there is a thriving local surf community.
The point at Huanchco does not have the quality of the nearby points at Pacasmayo and Chicama, but it picks up more swell and always has some fun waves; even when they are too small. On the other hand, Pacasmayo and Chicama are quite bleak but Huanchaco is one of the most interesting and nicest places to stop on the the North coast of Peru. So, it is a good place to recharge and chill out when the other points are not quite doing their thing. There is a lot of history and culture to explore around here too, such as the Moche Sol Y Luna temples or the ruins from the ancient Chimu city of Chan_Chan. Huanchaco also has great places to eat and is home to Peru's national dish of Ceviche.
Whilst in Huanchaco we stayed at Casa Amelia. For about £12 a night we had a split level thatched roof room with our own private bathroom. The whole place is stylish, unique and charming. There is a garden, two sun terraces, a communal kitchen and a lounge. It is one of the best value places I have ever stayed. It is Peruvian owned and run by a Dutch couple, Paul and Renee. They work really hard to keep the place nice and do everything they can to help. Paul is a surfer too and can help arrange trips up the coast. He also loves to go for a surf with anyone staying there.
Photography: Alexa Poppe.
alexapoppephotography.co.uk/
alexapoppeweddingphotography.com/