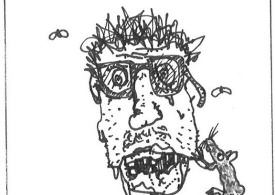 Pikerust is Chris Bisson's blog of his own illustrations and general curios. These illustrations are inspired by the environment of Chris's home county of Cornwall, natural history and his passion for surfing and skating. He has recently started producing Pike Rust t-shirts, each of which are hand drawn and individually designed. Mark Sankey caught up with Chris to find out a bit more.
MS: Where are you from and when/how did you get into surfing/skating?
CB: I am from a small village called Cubert in Cornwall. Which is in between Perranporth and Crantock. Have been up-holding the family tradition of surfing goofy since the mid-80's at my local break of H-Bay. Growing up down here, it's the only way for me to impress the ladies really.
I have been skating for about the same amount of time. Skating became even more important to me when I moved away from the sea for work and studying. I am retarded about both.
When did you start drawing and what inspires you?
I have always been into drawing and all things creative. I love old school maps with stuff like 'thar be beasties 'ere', and anything to do with natural history. Other stuff that inspires me is Warner Brothers cartoons, Viz, Orange Goblin, Stockwell Skatepark, Dead moon, Metallica, John Steinbeck, Quentin Blake, Shouty Punk, Dean Lane, ale, Saxon, skateboard graphics (bad and good), Anti Hero skate vids.
Why Pikerust?
At university some of my friends and I went to see Phi Life Cypher at Legends of the Dark Black in Plymouth, and as a joke we came up with Pie Life Cypher as our rubbish hiphop crew name. Pretty much from then Pie thing has stuck and I've always had Pies images on my skateboard decks. So, when I came to do a blog of all my doodles and random things, I needed a name and Pikerust just came to mind and seemed to fit to fish illustration thing. Pie-crust geddit…hmmm. I suppose I try not to take my surfing, skating or drawing to serious as I want it to be about having fun. Otherwise what's the point?
Can you explain the fish thing a little?
As a botanist (in training) I love natural history, fungi, lichens, algae. All that kind of stuff fascinates me. The simple answer is that out of everything I draw, I seem to be better at drawing fish! I had an owl phase last year, I did some common birds as well. Fish are so amazing, like every other organism, they are so variable in there morphology that pretty much anything goes when your drawing them, well apart from y-fronts I guess.
What do you do at the Eden Project?
I am the Plant Records Manager. Which means I look after all of the horticultural records, get to spend a heap of time in the Rainforest Biome looking at plants with a hand lens, record what the horticultural team do with plants and come up with projects using that data. Not sure if that sounds interesting or not, but it floats my boat anyway.
When did you become interested in the plant world and what/where did you study?
In my last year at Cornwall College I had a great biology teacher and he showed me how important plants are. I guess it hit the right spot because i've not really looked back. I'm currently working on a project on Zoochauvinism, which looks at how us humans currently take plants for granted.
What conservation work/plant study trips have you done?

I have been on a seed collection trip to Malawi with Kew Gardens. Visited loads of globally important Botanic Gardens in the US. I have been doing some evolutionary DNA based plant projects with the Wellcome Trust up in London, and I am currently working with Cornwall College Newquay on a GIS mapping project. The US was great because I took my skateboard wherever I went and hit up some amazing parks, as well as seeing some of the worlds most amazing horticulture.
How do you produce your t-shirts and do you think small scale production like yours is more sustainable?
Sometimes I get blank t-shirts in a charity shop and just draw on them with a permanent pen and they're my favorite ones. I found a heap in charity shops in France last year and they were all super short and made everyone look like they were wearing a crop top! I can acquire new t shirts as well if people want custom ones. I'd say one person using a pen on a tshirt is the more sustainable than larger scale production.
Chris has artwork and hand drawn t-shirts available through his blog, , as well as his usual ramblings.