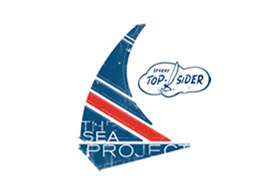 The Sea Project, by Sperry Top-Sider, is a contemporary, culture-forward channel inspired by a "Passion for the Sea" that fuses up-and-coming artists with fashion projects, street-level outreach, fine art exhibitions and other creative initiatives.
This year's unique undertaking, #mypassionforthesea, invites you to share your creative expressions inspired by your own passion for the sea and enter them for consideration in the Instagram-fueled photography contest, exhibit and limited edition book.
12 Winning entries will receive a prize package consisting of: a gift card for one free pair of Sperry Top-Sider adult footwear, recognition on Hypebeast.com, a copy of the Limited Edition #mypassionforthesea book, and a limited edition event tote and t-shirt. Winning submissions also receive special recognition at the live gallery exhibition and book release party to be held at The Popular Workshop gallery in San Francisco, CA.
All work from the exhibit will be on display September 12-15, 2013 during the America's Cup and select images will be featured in the limited edition book that will go on sale in September in conjunction with the exhibit.
WHAT'S YOUR PASSION FOR THE SEA?
learn more | SUBMIT