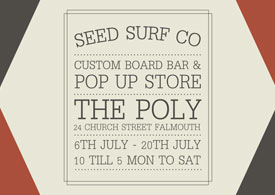 Seed Surf Company has packed up their store and hit the road this summer. The 'custom board bar & pop up shop' will be appearing at a few hand picked locations and the grand unveil has started at the Poly in Falmouth.
The pop up will be open for business from Saturday 6th July coinciding with the release of Seed's High summer '13 apparel line so the store will feature all of Seeds latest products. Seed's surfboard building ethos is firmly cemented within custom and handmade and the 'Board bar' is a celebration of these standards. There is a full quiver of Seed boards to view and head honcho/shaper Mikey Koskela will be on hand to discuss custom orders.
Running through until the 20th July it will give you a chance to get some of Seed's boards under your arm, get a discount on boards ordered through the bar and pick up your new go to tee from Seed's "£10 tee of
the week" deal.
Location;
The Poly
24 Church street
Falmouth
Cornwall
TR11 3EG
[email protected]
01208 895520
www.seedsurfco.com
www.facebook.com/seedsurfco