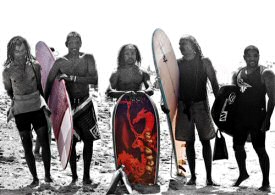 News from the other side: The California African American Museum (CAAM) presents How We Roll, a unique exhibition featuring African Americans in skateboarding, surfing and roller skating.
How We Roll takes the viewer through an historical step-by-step fantastic voyage of how surfing evolved into skateboarding, the kinship with roller-skating, and how "The Roll" created a cultural revolution that has influenced every corner of popular culture over the past four decades. This exciting exhibition is free to the public, and begins its six-month run on Thursday, July 22nd, 2010 at CAAM (600 State Drive, Exposition Park, Los Angeles, CA 90037).
The How We Roll exhibition opens one week before ESPN X-Games 2010; and, both events are located in Los Angeles' Exposition Park. Viewers and participants will benefit from the close proximity of these two extraordinary affairs, and will experience a high-energy visual and physical extravaganza that is guaranteed to delight and engage.
How We Roll showcases a legendary list of skateboarding pioneers and their accomplishments, from the late '60s and '70s, including Marty Grimes and Alan Scott (first generation Dogtown), Steve Steadham (participating in X-Games), Chuck Treece (first black skater to appear on the cover of a major skate magazine, Thrasher), Ron Allen, and others who laid the foundation for core achievements in skateboarding with their extreme tricks and artistic expression. They paved the way for the newcomers of successive generations in the '80s and '90s, like Stephanie Person, Ray Barbee, Kareem Campbell, Karl Watson, Rodney Smith, Chris Pastras (owner of Stereosound and television host for FUEL TV – Fox 24-hour extreme network), and Stevie Williams, who took the sport to a new level of competition and entrepreneurial possibilities. This groundswell of popularity has transformed skateboarding into a respected sport where today's athletes – Terry Kennedy, Paul Rodriquez, Nyjah Huston, Theotis Beasly, Malcolm Watson and others – have celebrity status and lucrative business ventures.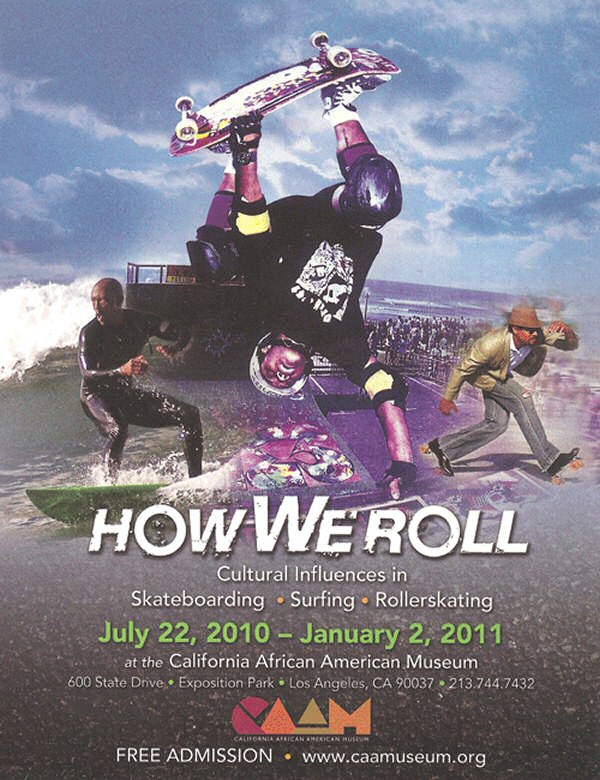 In the Courtyard:
When entering the museum, viewers experience an eye-gasm of artwork galore in an 11,000 square foot enclosed modern courtyard. The 5,100 cubic feet of wall space allows the skateboarders (who are also the artists, photographers, musicians, and much more) to create beautiful, large-scale installations. These massive installations, by Chris Pastras, Pep Williams, Atiba Jefferson, Brett Cook, Alex "Duce" Rodriguez (owner of Maintain skate shop in Hollywood, and a well-known graph artist), and Keith "K-Dub" Williams (founder and producer of Hood Games), are nicely lit by CAAM'S 34-foot high ceilings with domed skylights, as well as day windows for people to see as they pass by and enter the building.
In the Gallery:
Starting with 17th and 18th century historical documentation of surfing in Polynesia and Africa, photographer, artist, and historian Paula Lauren Gibson has developed an illustrated history of Black Surfing in the United States, and its roots. Organizations like the Black Surfing Association and Blacksurfing.com, provided support, mentoring and camaraderie for black surfers in southern California who often felt isolated in a sport where few Blacks participated. The founders and some members who include both professional and recreational surfers also featured in the exhibition. They are: Tony Corley, Rick Blocker, Andrea Kabwasa, Sharon Schaeffer, Rusty White and others. Surfing influenced skateboarding in its early days, in many ways, including maneuvers, fashion, and attitude, to the point that skating was called "sidewalk surfing." Surfer, artist and first generation Dogtown skater Alan Scott (also a member of the first Pepsi team) has designed a mural that shows the evolution from surfing to pool skating. Never before seen images of Marty Grimes (surfer and skateboarder) taken by photographer Glen E. Friedman, poignantly illustrate the connection between the first pool skaters and surfers.
Central to the exhibition is a Skater's Gallery featuring action pictures, personal stories, skater bios, magazine covers, artwork, decks and other signature items from many of the skateboarders on the list. Legends like Steve Steadham (performing in X-Games) and Chuck Treece show their amazing careers as skaters and musicians. Many photographers who have documented the scene contribute images as well. They include Glen E. Friedman, Grant Brittain, Jim Goodrich, Lance Dawes, Atiba Jefferson, Neftalie and more. Also, How We Roll will spotlight, for the first time, how girls have crossed gender and color lines, and rolled their way into a sport dominated by the guys. This section features and tells the amazing journey of Stephanie Person, the first and only professional black female vert-skateboarder, who made a living competing in America and Europe for 15 years. "I was just 'one of the boys' skateboarding in the 80's and 90's", says Person. "Now I am a woman, proud to be the very first black pro girl skateboarder, and excited to see a legacy of the many more to come."
Another area of the exhibition shows the evolution of the roller skating culture in the United States and how the ingenuity of these early "Rollers" created the first plank skateboard — the seedling that has given rise to the dynamic culture we have today. Co-curated by Roll Bounce co-producer Tyrone Dixon, skater and historian Tasha Klusman from Washington, D.C. and the Scooby Brothers this section has historical artifacts that range from Howard University to Hollywood.
Finally, How We Roll shows how skateboarding has cross-pollinated with and influenced other disciplines such as music — punk rock/Afropunk, hip hop, jazz, and reggae; the importance of the skate shop as the core or hub of the culture, featuring FTC (For the City) in San Francisco, ZooYork/Shut Skates in NYC, and four local shops in Los Angeles that service inner city youth; and, the 'green' consciousness in today's skateboarding businesses, i.e. the manufacturing of bamboo boards, to reduce the deforestation of maple trees (the wood commonly used to make skateboards,) using recyclable plastics for wheel production and a new trend of using organic and natural fibers for skater apparel.
Programs, workshops, screenings, appearances, conversations, and other special events, such as our Fourth of July Target Sunday and August Target Sundays, will be dedicated to How We Roll. Visit the website for updated information. Admission to the California African American Museum, and all museum programming, is free to the public.