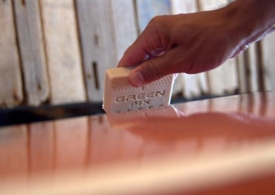 Interview with Damien Houques, 37 years old. Entrepreneur, founder, CEO and jack of all trades at Greenfix, winner of Eurosima's technological innovation award in 2009.
(…)
I started surfing as a teenager but stopped soon after as I didn't like the close-mindedness of the people I was surfing with, and it kind of put me off it. When I was 25 i returned to surfing and I realized how much I had missed it. Since then I've developed a liking to ride different boards and different waves, and to experience the glide over the water in very different ways, from a shortboard to very long logs or a gun. Later, in 2004, I moved to the Basque Country and after quitting my job, I took a break during which I built our house and thought about my future. I had planned to start my own company and since surfing was my passion, why not in the surf industry?
Damien testing his wax at Parlamentia (Guéthary)
So that's when Greenfix arrived?
Yes, I wanted to develop a product that was not heavily marketed (unlike surfwear) and I kept coming back to wax. It is something that every surfer needs and is not highly marketed. I did a survey of 250 local surfers to see what their feeling was and, after seeing the results I joined the ESTIA. The ESTIA is a local polytechnic university, but also an incubator of ideas and a cluster of technological companies that can use share all its technological knowledge and facilities. With their help I started researching different wax compositions and we managed to find formulas that resist very high temperatures (60ºC for the cool/warm and up to 70ºC for the tropical wax).
But not just any surf wax?
Right, the aim was to develop an excellent surf wax in terms or performance, but that was also environmentally friendly… and made locally. I don't want the consumer to have to make the slightest concession: I've always seen our duty as a company to develop a product that is good, environmentally friendly and that doesn't cost more -to the customer- than the less environmentally friendly ones. It is the only way that customers will shift to more eco-friendly products. Finally this past summer we launched the brand.
And how was it received?
We did a market test in early August in France and we have been very well received. So much so that we could hardly keep up with the orders. At the beginning we were outsourcing our production to a French company that makes candles and assorted wax products, but after a couple a little problems this past autumn we decided to make the wax ourselves, in Bidart. Today we pour the liquid wax in the moulds by hand, we demould by hand, etc… we would need a much higher production volume to afford a more automatic method. So for now we will keep it this way, although we are constantly trying to improve the process. On the other hand doing everything by hand gives us the opportunity to constantly check the quality of the wax.
There's a trend from other wax brands to launch environmental friendly waxes. How does it affect you?
Before we launched Greenfix there already was a specific natural wax brand on the market. And some existing brands have launched eco-waxes too. So we are not the only ones and we like it, as it's all a step in the right direction. But as far as we are concerned there are definitely several differences between us and them: (1) we don't produce in China, but locally; (2) our wax is highly resistant to the heat, which comes in handy when you leave your board in the sun (or inside your car) in summer; and (3) the shape of our wax bar, that has been designed specifically for easy use and great performance. On the other hand we believe that certain natural waxes might not be as environmentally friendly as they claim they are. Back when I was having a look around, several Chinese suppliers offered me "bee wax" (a key ingredient), that after further research I discovered was not coming from bees at all, but rather an oil-based product modified to mimic real bee wax. This is just an example of what can happen if you don't look closely enough.
Hence your decision not to mass-produce in China?
Correct. Today must of the surf-related items are made in China. Several large companies have launched eco-friendly labelled products or collections as a way to increase their market share, not because they want to make an honest move towards a more environmentally friendly production. We know that by producing locally our costs are much higher, and it is our choice. This is why we are planning a lab test, that an independent lab will carry out, to analyze most of the "natural-labelled" waxes existing on the market today and then (in a month or two) we'll see which ones are 100% oil free and which ones aren't. We want to set the record straight on behalf of all the customers.
Is this just marketing or a part of Greenfix's ethics?
From the very first moment I had three pillars in mind around which to build the Greenfix philosophy: (1) to produce environmentally friendly products; (2) to produce locally as a means to help produce or maintain jobs, whether directly or indirectly by using local suppliers; and (3) to bring our staff into the ownership of the company in a similar way to a cooperative, with a strong emphasis on social responsibility. Producing in China would give us more time for sales and a lower cost price, but that is not how we want it. Some people say that I am an utopian. But I like making things. Maybe by the end of this year I will be proved wrong, but so far that is the way we are moving. Also, we work with a C.A.T. (centers that employ physically impaired people) for our packaging and logistics, something we are very proud of and that we couldn't do if we were producing in China. And with other products that we are planning to develop soon, I hope we will be able to follow the same path. Actually these new products will also be heavily focused on their recycling possibilities.
Right, what's next?
Commercially we are already in France, soon in Spain and we are actively looking for distributors for the rest of Europe (UK, Portugal, Italy…). Contact us through our website if you know someone who may be interested. We know that by producing in France we will always be more environmentally friendly than other brands that are made in China or California, if not only because of the environmental cost of the transport. If we ever decide to expand into other markets beyond Europe we will only do that by  producing locally; not just for environmental reasons but also to give something back to the communities where we are selling. But that is still a long way away.
Niegà