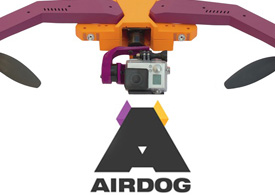 AirDog, a foldable quadcopter specially designed for action sports enthusiasts who use GoPro cameras, is taking flight in a kickstarter campaign.


AirDog automatically follows you wherever you go. It isn't stopped by rain, freezing temperatures or massive waves and will follow a signal from the programmable tracker that comes with the quadcoptor called AirLeash.
The leash is a small waterproof computerized tracker with software and sensors inside that sends signals to the AirDog, indicating exact movement and trajectory. Meanwhile a 2 axis gyro-stabilized gimbal makes sure that your aerial videos are as stable as using a tripod.
While we are unsure on how aviation authorities will view such drones in the future it can't be denied that the technology is incredibly impressive.
One thing is for sure it will certainly make for an interesting line-up with surfers vying for space on the water while the drones battle it out above. We are going to need someone to film that…
Click here to visit the Kickstarter page