The second instalment of the Quiksilver Pro France got underway in pristine three-to-four foot conditions, for nine heats of round two. Some of the world's best surfers took to the waves at Les Gardians in order to fight for a spot in round three.

11-time ASP World Champion and current No. 2, Kelly Slater, posted an early victory against wildcard Dane Reynolds. Both went in big early, with Slater going for an air unsuccessfully. Reynolds pulled off a full rotation — looking for the wildcard upset.
Slater answered back with a series of aggressive fins-free cutbacks, logging and 8.00 and taking the lead. A rail gouge and a tail-slide backed up his score.
Reynolds was still searching for that perfect ride, whilst Slater — with a comfortable lead — pulled off a full-rotation air for a second excellent score. Reynolds could only post a midrange five and bowed out of the competition.
[pullquote]I'm nervous about each heat now[/pullquote]
"I'm nervous about each heat now," Slater said. The pressure is on me to perform and to win events if I want to catch up to Gabriel. I've been coming to France for 25 years now and I'm about as comfortable as one can get. It's about adaptability. The tide, waves, wind, banks, and general conditions are always changing so you're never overly confident. The guys who have surfed well here over the years, like Mick (Fanning) and Andy (Irons), have figured that out."
Mick Fanning took on wildcard Matt Banting in an exciting heat earlier today. Banting made an early attack against the reigning world champ, Fanning, executing some clean vertical snaps and a progressive float section. But Fanning's surfing was on a totally different level, putting up a quick two-wave score of 13.77 and leaving Banting in a combination situation.
Banting struggled to find his rhythm, while Fanning pulled off a huge layback and took the first nine-point ride of round two. He then landed an air-reverse to improve his bottom line to a midrange seven. The wildcard was left searching for two new scores.
"I'm feeling good and focused, but you can never discount the conditions here in France nor an opponent like Matt," Fanning said. "Fortunately the waves cooperated and we had good surf for the heat. My surfing is feeling strong and boards feel good, but we really can't get too far ahead of ourselves."
[pullquote]
leaving Monteiro needing a near perfect score with 10 minutes left on the clock[/pullquote]
John John Florence continued on form during his bout with Raoni Monteiro. Florence logged a midrange seven on his first wave. Monteiro answered Florence's call with a six-point ride after an aggressive attack on the lip, but Florence's aerial game was on. He landed an air-reverse for an 8.33, leaving Monteiro needing a near perfect score with 10 minutes left on the clock.
He managed to land his own air-reverse on the five-minute mark, but couldn't find the scores to back it up.
"The waves were super fun for our heat out there," Florence said. "You never know what you're going to get in France with the conditions for you here, but we need really racy right-handers that were good for turns and airs."
Kolohe put on a impressive display during his matchup against Brett Simpson.
Simpson went in first, combining multiple carves and earning a midrange five. But Andino's second wave featured a massive layback, and his third closed with a controlled air-reverse — allowing him to take the lead with a two-wave total.
Andino executed another clean air with 10-minutes left on the clock, leaving Simpson searching for a 9.00 that he couldn't achieve.
"I was just trying to surf the waves as it came," Andino said. "I wasn't trying to force anything. Sometimes I feel like I'm just in turn mode or just in air mode and sometimes you get stuck in one mode. I just want to put on a show."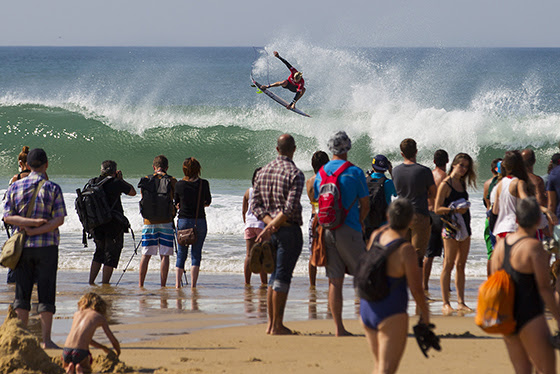 Kolohe Andino goes big during round two. ASP/ Poullenot
The pressure was on for Travis Logie — needing a good result in France to stay on tour in 2015. Logie took on 2013 Rookie of the Year, Nat Young, in heat five. Young kept busy, taking four rides in the opening 10-minutes and logging two keepers. But Logie's selectivity paid off when he carried out three huge hacks, posting an excellent 8.57.
Young tried to take to the air, but struggled to find a clean landing. While Logie continued steadily and improved his two-wave total. By the ten-minute mark Young still needed a near-perfect nine-pointer to take the lead. 
Logie took the win.
"It's a crucial part of the season for me," Logie said. "I'm in need of a result, but I feel confident in Europe and hope to climb the ratings before the leg is finished."
As the day went on we saw Owen Wright take out Aritz Aranburu after an aggressive attack from Wright. Andre Jadson despatched Bedge Durbidge during their heat. The tide began to drop out for the final two heats of the day, leading to the event organisers deciding to end it there. When the competition returns we will see the final three heats of round two play out.