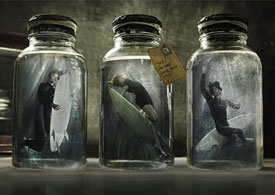 The death of surfing – Surfers Against Sewage launches new Protect Our Waves images by Scott Rhea.
This week sees the launch of the final instalment of Protect Our Waves campaign images, created by acclaimed photographer Scott Rhea and advertising agency M&C Saatchi, completely free of charge to support the charitable initiative.
Scott's stunning and surreally beautiful series of Protect Our Waves images, depicting surfers preserved in specimen jars, explores the theme of extinction, highlighting the environmental issues that currently threaten UK waves. Scott's work has been published worldwide and is widely sought after by art collectors. He is renowned for his amazing and creative underwater installations, which led to him supporting Surfers Against Sewage on the campaign.
Hugo Tagholm, Chief Executive of Surfers Against Sewage says:
"Surfers Against Sewage is excited to launch these stunning, strangely beautiful yet dystopian images as part of the Protect Our Waves campaign, highlighting the environmental threats to UK surfing. We have been overwhelmed at the level of support the Protect Our Waves petition has received, and were delighted when Scott Rhea agreed to create these artworks for us."
Scott Rhea says:
"I was thrilled when Surfers Against Sewage and M&C Saatchi approached me to create some innovative images for the Protect Our Waves campaign. Marine protection is an issue I care passionately about and I hope that my contribution will shine a light on the issues SAS is addressing to protect waves, oceans and beaches for everyone.

The ocean is one of man's greatest natural resources and the delicate balance between preservation and destruction lies in the decisions that are being made now and the legislation that will protect the future.

I have had first hand experience living in areas where the raw sewage was being dumped and people had to choose between their health or enjoying the ocean. This is a decision that nobody should ever have to make."
Over the past year, the Protect Our Waves petition has received tens of thousands of signatures of support, highlighting the importance of UK surfing resources to coastal communities nationwide. It calls for better protection for the coastal environment and those that use it. The focus of the petition is a call for amendments to legislation to better control sewage pollution, marine litter and damaging coastal developments. SAS believes that waves and surf spots deserve to be seen as part of UK heritage and should be afforded greater recognition and protection through debate and legislation. The petition has garnered global attention over the past year and has firmly cemented SAS's position as one of the world's leading environmental surf charities.
On the 22nd October, SAS campaigners will be joined by 11 times world surfing champion Kelly Slater to discuss Protect Our Waves issues with Members of Parliament at the Palace of Westminster, then deliver the petition to the one of the most recognisable doors in the World, No. 10 Downing Street.
It's not too late to sign the petition – www.protectourwaves.org.uk