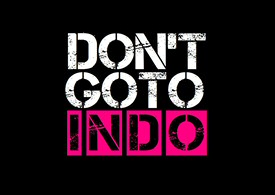 A reason to think twice before you pack your bags for Indo next time. The little known conflict of West Papua highlights how your money could end up assisting wrong doing.
Off the plane, on the boat, off the boat, on the board… moments later you're deep inside a turquoise frame, holding your breath as you grind along the reef. Indonesia delivering its promise as surfing heaven on earth.
With 202,080km of coastline, Indonesia has more surfing potential than perhaps anywhere else on the planet. Magnetised by its pull, surfers arrive in droves spending anywhere between US $1000 and $6000+ for two weeks in heaven.
But where is this money going and does it matter? Surfer and activist, Joe Jenkinson, from UK campaign group Don't Go To Indo thinks it does.
"The Indonesian tourism industry is valued at some US $75.3 million and the burgeoning surf industry contributes a fair proportion of this," he says. (Source: World Travel & Tourism Council, Economic Impact, 2012, report: Indonesia)
"What people don't realise is that each trip to Indonesia reinforces an economy driven by oppression and resource grabbing in Indonesian occupied West Papua".
When the Dutch left the Western half of the island of New Guinea in 1961 they recognised the West Papuans as Melanesian, ethnically and culturally distinct from Indonesia, and West Papua enjoyed a brief spell of independence. Within months however the dream was dead. Indonesia invaded and when United Nation observers turned a blind eye to what was meant to be a free and fair referendum on Papuan independence in 1963, the stage was set for 51 years (and counting) of occupation and brutal oppression of West Papua, orchestrated by the Indonesian government for economic gain.
Today West Papua is out of bounds to journalists and aid organisations alike and traveling there as a tourist is made intentionally difficult. All this helps to sustain the mirage of Indonesia as a heaven-sent tourist (and surfer's) paradise, whilst keeping its true colours behind closed doors, a continental shelf away, on the island of New Guinea.
Joe appreciates that surfers may not consider this their problem, "Surfers have the freedom to travel and surf wherever they like. At Don't Go To Indo we are not expecting a complete boycott of Indonesia as a surfing destination. We understand that it is the Indonesian government and military that are responsible for the colonisation and violence in West Papua and not small business owners in Indonesia who are simply trying to make a fair buck from passing surfers."
"We are however adamant that surfers should be aware of the facts and understand that by traveling to Indonesia they are upholding a government that is responsible for the genocide of hundreds of thousands of West Papuan men, women and children."
This figure is difficult to determine exactly due to the pervasive restriction on human rights groups from entering the affected areas but estimates range from 100,000 by Amnesty International up to 500,000 by Al Jazeera since Indonesia invaded.
"As a surfer myself I do not want this on my conscience." Joe confesses. "Plus, why go to crowded Ulu when you can find your own Papuan equivalent on the island of New Guinea with no one else out?"
So what can you do to help?
Raising awareness is the first step, and to spread this message visit Don't Go To Indo on Facebook, Twitter, or write to your local MP. You can learn more about the independence movement at the Free West Papua Campaign site. You can also email Joe Jenkinson, campaign director.
This is an issue all surfers should know about, so that they can make an informed decision about their travel budget and where it goes.
It is time for surfers to stand up for the oppressed people living in wave paradise.