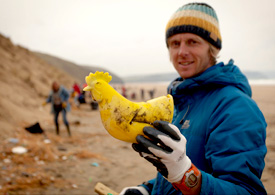 Coastal communities unite to remove 25 tonnes of marine litter from UK coastline.
This March, in response to the tideline of marine litter left on our beaches by the winter storms, national environmental charity Surfers Against Sewage co-ordinated its biggest ever Big Spring Beach Clean. Over 3500 people volunteered at beaches from Lands' End to John O'Groats, removing a staggering 25 tonnes of marine litter from the beautiful British coastline, equivalent to 833,333 thousand 1 litre plastic bottles.
Marine litter has reached shocking new levels, making this year's SAS Big Spring Beach Clean more important than ever. The growing marine litter crisis means that there are now over 2030 items of marine litter – the vast majority plastic – for every kilometre of our coastline.
The following marine litter stories and jaw dropping statistics are just a snapshot of this huge volunteering effort within coastal communities and demonstrates just how motivated people are to take action to protect our unique and fragile oceans, waves and beaches for everyone to enjoy.
• 130 – The number of beaches cleaned by Surfers Against Sewage volunteers.
• 3500 – SAS Big Spring Beach Clean volunteers
• 25,000 – Kilograms of marine litter removed by SAS volunteers
• 260 – Volunteers at Perranporth in Cornwall. A Big Spring Beach Clean record!
• 3.5 – Tonnes of marine litter removed from Perranporth in Cornwall. An SAS record for one single beach clean!
• 100 – Or more volunteers at 10 of the SAS Big Spring Beach Cleans!
• 28 – The average number of volunteers per SAS Big Spring Beach Clean.
• 500 – Kilograms or more marine litter were removed at 6 SAS Big Spring Beach Cleans.
• 1000s – Of Sewage Related Debris items reported at all Big Spring Beach Cleans.
• Furthest North – Thurso*
• Furthest South – St Ouen, Jersey
• Furthest East – Southwold Bay
• Furthest West – Magillian Point, Northern Ireland
• Most Remote – Gott Bay, Isle of Tiree
One of SAS's greatest strengths is an ability to approach the often distressing issues facing our coastline with a sense of fun and the Big Spring Beach Clean is a perfect example. Whilst removing shocking amounts of the usual marine litter suspects like plastic bottles, cigarette butts, fishing net and plastic bags, volunteers were also hunting for weird and wonderful items of marine litter as part of the 'Weirdfish' competition. The items below are just some of those that provided volunteers with welcome respite from the harsh reality of the marine litter crisis.
• Canadian Liberal political candidate sign at Gott Bay, Isle of Tiree (this will have had a long journey via the North Atlantic Gyre)
• Plastic Chicken found at Perranporth, Cornwall.
• TV and fridge found at Cruden Bay near Aberdeen.
• Elephant toy found at Saltburn.
• 1970's Tesco yoghurt pot (dated by Tesco archivists) found at Teignmouth, Devon.
• A set of dentures at Thorpe Bay, Southend.
• 100s of Toy Soldiers found at every beach
• 100s of Sea themed Lego pieces – thought to be from a container that was washed off the Tokio Express by a huge wave in 1997.
• 30 packs of cigarettes at Kimmeridge, Dorset. Just a fraction of the 14 tonnes lost from a container ship in the Bay of Biscay this February.
2014 is a benchmark year in the battle against marine litter. Later this summer, SAS will produce a report detailing the ambitious strategies needed to reduce marine litter by 50% by 2020. This report will be given to Government and industry with the clear message that our beaches are drowning in litter and that we need to take decisive action today to protect our beaches for the future.
"Surfers Against Sewage was overwhelmed with the outpouring of community action and effort through the Big Spring Beach Clean. We'd like to say a huge thank you to all the volunteers who helped remove the 25 tonnes of litter from our beaches that threatened the health of both wildlife and people. This massive springboard of action will hopefully connect, inspire and motivate coastal communities to be even more involved with campaigns to protect our waves, oceans and beaches for the future." SAS Chief Executive, Hugo Tagholm
"As a brand that was born on the beaches of Brazil, it's great to be involved with such a worthy cause a little closer to home. As well as helping to keep all the volunteers well hydrated during the cleans, it was great to see the Vita Coco Team getting stuck into a cause we are so passionate about. The results speak for themselves; it's so important that we all continue to protect and maintain our beautiful beaches across the UK." Giles Brook, CEO – Europe of Vita Coco Coconut Water (Big Spring Beach Clean Lead Sponsors)
Marine litter is a 365 days a year problem and SAS encourage and support communities to organise their own beach cleans any time. For more information on this or any SAS marine litter campaigns contact [email protected] or call 01872 553001.