Drift had the great opportunity to sit down with surf stalwart Bob (Lefty) Phillips. Bob is an internationally recognised surf artist but his life story goes much deeper than that. From dodging bullets (and being hit by a mortar), to nearly turning pro as baseball player, Bob has been through it all.
The one constant in his life? His love of the surf and hitting the waves at every given opportunity. All in a days work for a fresh faced, sprightly 86-year-old.
It all began with the Wall Street Crash. It was the first and the most devastating stock market crash in the history of the country
Bob was born in Long Beach, California, USA in 1929. The decade was destined not to end well and very quickly the US found themselves plunged into more hardship and austerity… It all began with the Wall Street Crash in October of that year. It was the first and most the most devastating stock market crash in the history of the country and signalled the start of the 10-year Great Depression which had an effect on almost all western countries.
Bob and his family had grit and determination to succeed. He always worked hard in school and college and played harder outside. He found himself involved in all manner of jobs including working at a print shop, polishing cars in a dealership and a year as a labourer in the Shell Oil Refinery.
As a young 19-year-old, Bob met the other permanent fixture in his life apart from the surf, Joyce.
They met at a high school social in the late 40s. Unfortunately, they couldn't enjoy too much of their lives together before a huge change took place, sending their idyllic lives into complete turmoil.
This change was the start of the Korean war. Within weeks Bob was drafted into military service. He took his basic infantry training at Fort Ord in central California and prepared to leave with his destiny no longer in his control. Bob and Joyce made a decision right there and then to marry before he left overseas. Just days after their wedding Bob received orders to join the 24th Infantry Division in Korea, from there he was sent to the 5th Regimental Combat Team.
Bob was positioned inland so surf was out of the question but some of the boys out there got involved, he told us. "I think about my Army experience almost daily. I still remember buddies from basic training, some of whom were in my regiment overseas, most came home, some didn't.
Some guys stationed near the beach in South Korea had managed to get some good waves at the nearby shore
"I also remember talking with some guys stationed near the beach in South Korea, they had managed to get some good waves at the nearby shore."
On the night of 14 October 1951, Bob's company was in battle for a mountain ridgeline, this was the battle of Motu. It was now that his luck finally run out as a mortar shell made impact a few feet away and he was sprayed with shrapnel in his legs, hands and face. He was carried out from the battlefield under gunfire by the brave and resilient medics, from safety he was dispatched to Japan to recover.
"The Docs did a great job patching me up." Bob smiled "I have some paralysis in my left leg and foot but otherwise I'm OK.
"My 'pop-up' on the board is definitely a bit slow, and now that the years have passed it is getting even slower, sometimes I think I'm going backwards, but I always get there" he chuckles
Bob returned to California and back to civvy street working in insurance, growing a family and surfing as often as possible. He now has three grown-up children, and that has developed into six grandchildren and eight great grandchildren.
"Luckily I'm retired now" Bob told us
"It means I can spend more time on my paintings, but I still try to hit the surf when I can. I go locally at Seal Beach or Bolsa Chica.
"Another local surfer named Brown surfed locally until he was 80. He then moved to Hawaii and surfed another 20 years. He stopped, then died shortly thereafter… I didn't know him, but I think I might go for his record."
Talking to Bob I think he has a chance…
Check out some of Bob's surf art by clicking here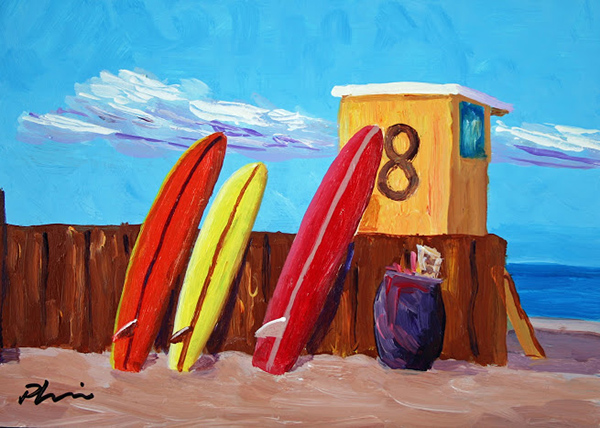 Drift would like to say a special thanks to Murray Laird for helping us to bring this story together