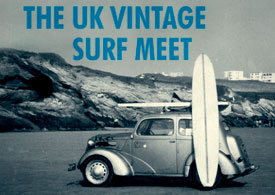 Two pioneers of the British surfing industry, Tiki founders Tim Heyland & Dave Aldrich-Smith, will be the special guests at this year's UK Vintage Surf Meet at the Museum of British Surfing on Sunday September 1st 2013. Collectors from all over Britain will be displaying their best vintage surfboards – plus there will be the country's first ever live surf auction.
The main theme of this year's surf meet display is the 1960s, to tie in with the Sixties SURFER! exhibition now running at the museum. In addition to this, you can bring along your old Tiki surfboards, wetsuits and other items and have them checked out by Tim & Dave in person!
Tiki hold a unique place in British surfing history, as they are the only company that have kept the same 'family' ownership since they started at the birth of the UK industry in the mid 1960s.
The UK Vintage Surf Meet runs from 10am to 2pm on Sunday September 1st at the Museum of British Surfing in Caen Street car park, Braunton, North Devon EX33 1AA – parking is FREE all day, and refreshments will be available.
If you would like to exhibit it is free, but you need to register by emailing; [email protected] or calling 01271 815155. Exhibitors please note; you'll need to bring stands or matting for your surfboards.
Entries for the surf auction – boards & memorabilia – will be accepted from August 1st. There are two entry categories; donate – you can pledge 100% of the auction price to help the Museum of British Surfing registered charity; fee sale – enter as a standard auction item, with sellers & buyers commission set at 15% with all proceeds to the museum charity.
Tiki have set the ball rolling by generously donating for auction one the first surfboards they made when they set up in Abergavenny in 1967 before moving to their current home in Braunton the following year.
This is a rare chance to see beautiful surfboards that are tucked away in private collections, and previous events run by Al Lindsay in Newquay and the surfing museum in North Devon have proved a huge hit.
Please note – this is an outdoor event, so keep an eye on the weather, pray for sun, pray for clean surf and dress appropriately for the British weather!