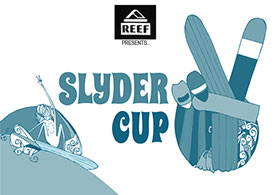 Saturday 29th November will see the annual Slyder Cup presented by Approaching Lines and Reef return to Cornwall for its second edition! Celebrating the art of wavesliding from a 'finless' perspective Slyder Cup 2.0 brings together bodysurf and bellyboard brethren, paipo people, surf matters and alaia riders for a one-day surf competition and frigid friction affliction convention where the emphasis is on good vibes, good rides and good times!
The convention is broken into 4 classes: body surf / handplane; paipo / bellyboard; surf mat and alaia with a winner in each. The Grand Final will see the winners go head to head and the Slyder Cup Champion 2014 determined. In this event it not about how hard you can shred the gnar, it's about the style of your glide and your skill on your slyde.
And then there's the 'Run What You Brung' expression session where anything goes and the only limit on what you can ride is in the parameters of your skill and imagination…
Part competition, part social gathering shapers and makers from across the fins-free spectrum are invited to showcase their wavesliding vehicles. If you'd like to get involved contact [email protected] Shennanigans will be going on into the evening so stay tuned at www.approachinglines.com for full details.
Photos by Matt Arney