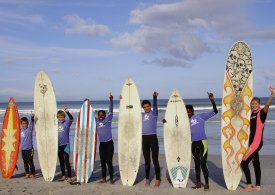 Adam Edwards reports on a surfing organisation that is bringing hope to some of South Africa's poorest children.
It's a warm day in the busy surfing resort of Muizenberg on South Africa's southern coast. Some rich kids from Cape Town arrive in a shiny car, boards tied to the roof rack. They get out and start changing into wetsuits, dousing their bodies in Suncream to protect against the searing African sun.
On the other side of the car park the scene is quite different. Three small, black children sit on a wall. Their clothes look worn and their general appearance is a stark contrast to that of the older kids in their designer surf gear. The rich kids stroll across the car park passing the younger boys as they make their way along the golden sands into the sea. A few years ago the younger kids would probably have pestered the older ones for food or money. But 11-year-old Chadwin and his friends Zoundrey and Chetebaga, both aged eight, have put this habit behind them thanks to a small organisation that teaches children from the area's troubled townships how to surf.
The non-profit organisation, known as Son'surf Outreach Project, was set up by Mandy Weschta, a 28 year-old South African who moved to the town in 2007. Mandy grew up in South Africa's surfing Mecca Coffee Bay and has been surfing since the age of 12. She moved to Muizenberg – a few miles south of Cape Town – in 2007, after spending seven years living in the UK.
She explains how she moved back to South Africa with the intention of starting a backpackers' hostel, but spent her time teaching local children how to surf instead.
"I was saddened by how many children were on the streets begging for food and money," she says. After speaking to the children, the committed Christian decided she would try to do something to help. "I decided that I loved surfing and being outdoors. So I thought maybe I could start a surf school to help the poor children and give them hope for the future and a better focus in life."
She explains that there were 10 children who didn't go to school and regularly hung around the beach begging. "I wanted them to have something to look forward to, instead of hanging around the beach begging every day," she says. "And I thought if I could give them a surf board and feed them every day they wouldn't have to beg for food anymore."
"When I started one of the children locked me in the surf school," she adds, unperturbed. "They are used to fighting, they aren't used to peace. But it's very disciplined here. If they swear or smoke we don't let them surf. Our aim is to provide the children with hope for the future, to guide them into becoming successful in life, give them love and support and to feed them."