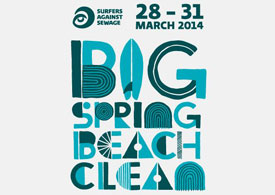 In the wake of the winter storms that have been battering the UK Surfers Against Sewage (SAS) is calling on coastal communities to volunteer to organise SAS Big Spring Beach Cleans on 28th, 29th, 30th & 31st March to help tackle the marine litter crisis.
Relentless storms have brought with them severe flooding, continuous sewage discharges and extreme coastal erosion. Hercules and other storms have also revealed the shocking scale of the marine litter crisis our oceans and beaches are facing. Coastal communities have found their beaches resembling catastrophic scenes left by tornadoes or hurricanes, thick, multi-coloured layers of marine litter cover the sand as far as the eye can see. Cotton bud sticks, shipping crates, carrier bags, water bottles, fishing netting, cigarette butts, mermaid's tears – the vast majority of it plastics.
The response of coastal communities to this crisis has been truly inspiring and SAS are now asking them to unite for the biggest ever Big Spring Beach Clean to deliver at least 150 beach cleans involving 3000 volunteers spanning all UK coastal counties and removing a minimum of 10 tonnes of debris from our precious coastline.
So step forward, roll your sleeves up and volunteer to organise a Big Spring Beach Clean this March the 28th – 31st.
Register your beach at [email protected] or call 01872 553001 and then follow the simple step by step guide for Big Spring Beach Clean organisers. Surfers Against Sewage will provide Lead Volunteers with beach clean equipment plus full health and safety, public liability and event organisation support. All Lead Volunteers will receive Vita Coco Coconut Water samples and a limited edition Kleen Kanteen© reusable steel water bottle.
Marine litter isn't just an unsightly and hazardous mess of brightly coloured objects that people have to contend with on a family trip to the beach. It is thought that marine litter causes a reduction in fish and marine mammal populations through higher mortality rates from wounds caused by litter, starvation due to blockages in the digestive systems and entanglement, and impaired reproductive capacity due to toxins such as parabens. Micro-plastics in particular concentrate organic pollutants such as PCBs, enabling them to enter the food web and bio-accumulate, reaching levels of toxicity thousands of times higher than the water around them. Miniature toxic time bombs poised to enter the food chain and work their way up to humans.
"The marine litter crisis poses an unprecedented threat to the sustainability of our marine environments a threat that the world is only just waking up to. Since 1990, people across the UK have been joining SAS's Big Spring Beach Clean and when 150 coastal communities unite to confront the marine litter crisis this March, we hope to turn that awakening into action"
Hugo Tagholm, SAS Chief Executive
Surfers Against Sewage are pleased to welcome Vita Coco Coconut Water as Big Spring Beach Clean lead sponsors, their teams will be rolling up their sleeves and joining them on beaches across the UK whilst providing much needed hydration for volunteers at three Flagship Big Spring Beach Clean Events. SAS are also delighted that Vita Coco Coconut Water will be working with them to maximise recycling at all events.
"We're delighted to support the UK's leading environmental surf charity to better protect beaches from marine litter. As a brand, Vita Coco was born on the beaches of Brazil, so we fully support the importance of protecting our beautiful beaches for future generations to enjoy. We are excited to roll our sleeves up and get stuck into cleaning beaches all around the UK this March."
Giles Brook, CEO – Europe of Vita Coco Coconut Water (Big Spring Beach Clean Lead Sponsors)
Surfers Against Sewage are more active than ever before in responding to the marine litter crisis through innovative & award-winning campaigns and the imminent announcement of an ambitious 5-year action plan. A plan that will include; the 2014 publication of a ground-breaking Marine Litter Report, exploring the scale and causes of the marine litter crisis and the announcement of SAS's 2020 marine litter reduction targets.