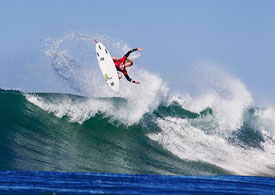 John John Florence surfed one of the most flawless heats in ASP history today, marking himself as the man to beat in the Hurley Pro. His near-perfect two wave total of 19.73 allowed him to easily dispatch Kelly Slater and Adriano De Souza, and stands as the highest two-wave heat total of the competition.

[pullquote]The crowd went into a frenzy as Florence put on the best performance of his career[/pullquote]
Florence posted a record-setting five rides of more than nine points in 30-minutes. He credits this to the incredible overhead surf at San Clemente's Lower Trestles. The crowd went into a frenzy as Florence put on the best performance of his career to date. Both Slater and De Souza were left in a combination situation and were forced to surf again in round five. Both survived the elimination round and will proceed to the quarterfinals. De Souza will face off against Florence again in quarterfinal three.
"I'm really grateful for the chance to skip a round because it's hard work out there," John John Florence said. "The waves are solid here this year and it's exhausting. I was pretty focused in the heat. I was fortunate enough to be on some really well-shaped waves that allowed me to open up and perform. Stoked on the heat and looking forward to a big finish tomorrow."
Slater was out to win in round five when he eliminated defending event winner Taj Burrow. The two went head-to-head, being evenly matched through most of the heat, but Slater took a last-second win when he stole a wave under Burrows priority. He will face Joel Parkinson in the quarterfinals.
"I'm pretty tired after surfing three heats, but I did everything I could and took my chance at the end," said Kelly Slater. "We'll wait to see how this event goes, but that was a World Title heat for me. If I'd loss that I think I would have been out of the face. I need to stay even with Gabriel, I need to win. That was a close one and some luck went my way at the end."
A highly anticipated rematch saw Gabriel Medina take on wildcard Carlos Munoz in heat six of round three, earlier in the day. Munoz had come out triumphant over Medina in the opening round, sending Gabriel into the elimination round two. Although Munoz was on top form today the ASP World No. 1 delivered an air reverse and a chain of manoeuvres to completely dominate the round and take the win. medina continued this streak when he faced Miguel Pupo and Jordy Smith in round four where he secured his place in the quarterfinals with a near perfect 9.83.
"The waves are great, the waves are really fun out there," said Gabriel Medina. "I knew it was going to be a tough heat against Jordy and Miguel because they've both been surfing really well out here. After my round three win I feel better and more confident and I wasn't feeling the same pressure."
Reigning two-time ASP World Champ, Mick Fanning, was the first of the day to secure a place in the quarterfinals after facing Michel Bourez and Adrian Buchan. Fanning went all out delivering an air-reverse to put himself in the lead, backing it up using his power-carves and perfect, wrapping turns, posting a 9.07 to take the win. Bourez was eliminated by Jordy Smith in round five, while Buchan bested Miguel Pupo and will join Fanning in the quarterfinals.
"You have to throw everything to the wind and give it your all out here," said Mick Fanning. "I just need to win events and that's what I'm going to aim for on the back half of the year. You have to build confidence here and focus on completing waves. I'm starting to feel good and learning this tricky lineup."

John John Florence gave an historic performance today, posting five nine-point rides in round four. Image: ASP/Rowland
The second highest two-wave heat total, an 18.00, was logged by Adriano De Souza and it secured him a place in the quarterfinals after his round five heat against Owen Wright. De Souza secured an early lead, dropping into a set wave for a 9.03, backing it up with an 8.93, leaving Wright in a combination situation with a broken board. De Souza went head-to-head with FIlipe Toledo in round three earlier in the day, the two ended their bout with identical single-wave scores and two-wave heat totals of 16.67, meaning it came down to the third highest wave score, a 7.00, which belonged to De Souza.
[pullquote]
I feel so good right now to make the quarterfinals but I'm exhausted.[/pullquote]
"To be honest it was a tough day because I've competed three times," said Adriana De Souza. "I feel so good right now to make the quarterfinals but I'm exhausted. I'm really proud of myself to make all of those heats. That one against Filipe was one of the hardest heats I've ever had in my whole life but thanks to him for making it the best. I'd love to make the podium but tomorrow will be tough. For sure John John is the one to beat." 

Jordy Smith claims his second quarterfinals place of the year after besting Bourez in round five. It came down to the final minutes, with Smith showing off his power, executing some tail drifts and smooth turns. He scored a 7.57, allowing him to take the win. 
"I didn't really know what's happening and didn't realise that I'd got the scores," said Jordy Smith. "They must really like the big waves. It's so nice to be able to wake up in my own bed and be staying so close to the contest site: it's quality."
To finish off the day the Hurley Pro saw 1989 ASP World Champ Martin Potter take to the water against Brad Gerlach, one of his biggest rivals of their time, in the second ASP Heritage Series heat. Gerlach blitzed the heat with 14 points to Potter's 10.76.
Hurley Pro at Trestles Round 3 Results:
Heat 1: Michel Bourez (PYF) 14.67 def. Jadson Andre (BRA) 11.44
Heat 2: Adrian Buchan (AUS) 16.30 def. Nat Young (USA) 15.60
Heat 3: Mick Fanning (AUS) 13.60 def. Tiago Pires (PRT) 10.83
Heat 4: Miguel Pupo (BRA) 11.16 def. Kolohe Andino (USA) 10.93
Heat 5: Jordy Smith (ZAF) 12.17 def. Julian Wilson (AUS) 9.93
Heat 6: Gabriel Medina (BRA) 13.30 def. Carlos Munoz (BRA) 8.77
Heat 7: Kelly Slater (USA) 14.17 def. Tanner Gudauskas (USA) 13.84
Heat 8: John John Florence (HAW) 16.57 def. C.J. Hobgood (USA) 11.83
Heat 9: Adriano De Souza (BRA) 16.67 def. Filipe Toledo (BRA) 16.67
Heat 10: Taj Burrow (AUS) 14.70 def. Kai Otton (AUS) 14.10 (AUS)
Heat 11: Owen Wright (AUS) 15.37 def. Fredrick Patacchia (HAW) 13.43
Heat 12: Joel Parkinson (AUS) 16.03 def. Artiz Aranburu (ESP) 13.70
Hurley Pro at Trestles Round 4 Results:
Heat 1: Mick Fanning (AUS) 15.90, Michel Bourez (PYF) 15.70, Adrian Buchan (AUS) 11.14
Heat 2: Gabriel Medina (BRA) 16.46, Miguel Pupo (BRA) 15.00, Jordy Smith (ZAF) 13.03
Heat 3: John John Florence (HAW) 19.73, Adriano De Souza (BRA) 17.84, Kelly Salter (USA) 11.83,
Heat 4: Joel Parkinson (AUS) 14.57, Taj Burrow (AUS) 14.44, Owen Wright (AUS) 13.90
Hurley Pro at Trestles Round 5 Results:
Heat 1: Jordy Smith (ZAF) 15.74 def. Michel Bourez (PYF) 15.07
Heat 2: Adrian Buchan (AUS) 15.50 def. Miguel Pupo (BRA) 10.27
Heat 3: Adriano De Souza (BRA) 18.00 def. Owen Wright (AUS) 12.34
Heat 4: Kelly Salter (USA) 15.87 def. Taj Burrow (AUS) 15.83
Hurley Pro at Trestles Quarterfinal Match-Ups:
QF 1: Mick Fanning (AUS) vs. Jordy Smith (ZAF)
QF 2: Gabriel Medina (BRA) vs. Adrian Buchan (AUS)
QF 3: John John Florence (HAW) vs. Adriano De Souza (BRA)
QF 4: Kelly Slater (USA) vs. Joel Parkinson (AUS)