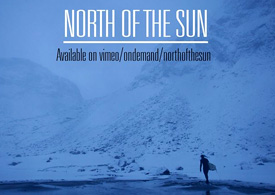 Inge Wegge (25) and Jørn Ranum (22) spent nine months of cold, Norwegian winter in the isolated and uninhabited bay of a remote, arctic island by the coast of Northern-Norway, facing nothing but the vast Atlantic Ocean.


There they built a cabin out of driftwood and other cast-off materials that washed up on shore, and ate expired food the stores would otherwise have thrown away. But the boys brought with them two items of utmost importance: Their surfboards – perhaps their biggest motivation for the arctic adventure. Because the remote bay holds a well kept secret; Some of the worlds finest surfing waves.

The film has one several awards including'Best Documentary' and 'Viewers Choice' at the London Surf/Film Festival 2012. You can now watch it on demand here.


NFS TEASER 13ENG from weggebros on Vimeo.