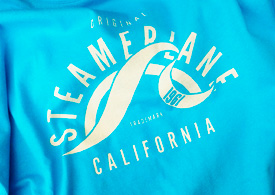 Steamer Lane is a new British clothing brand that takes its inspiration from the golden age of surfing and beach culture of the 1950s and 60s. Designed by co-founders Phil and Antonia by hand on their kitchen table, the brand is a real grass roots story; with next to no money for investment, no training or experience in art, design or fashion, Steamer Lane was created from scratch with a micro start-up budget of £3500, and a whole lotta heart.


"We had no money for product development, marketing or professional expertise," the owners elaborated. "It's been a real shoestring project and a steep learning curve, devoting our time to research and attention to detail in delivering a product and a brand we can be proud of. With big business exploiting cheap industrial scale labour, we're not sure there are many clothing companies that can say that."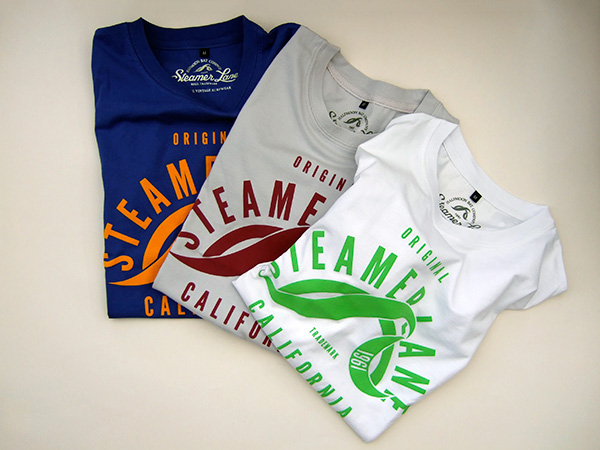 The inaugural holiday essential collection comprises a vibrant range of women's and men's 100% cotton T-shirts, which each feature distinctive designs: the original stylised wave logo, a vintage feel Cruz liner and a college Classic 1961 print. Each design boasts a different print colour and effect, including the raised graphic popularised by Superdry, along with diffused, soft hand and vintage look techniques. The neck label is printed and in a contrasting colour for comfort and style, while a wave logo hem tab can be found on the men's sleeve and the women's hem line.
[pullquote]Steamer Lane is the name of the legendary Santa Cruz breaks and one time proving ground of the old school big wave riders[/pullquote]
Founders Phil and Antonia are currently based in Surrey overlooking the rolling hills rather than giant swells of California, while the brand name is synonymous with surfing history; it is the name of the legendary Santa Cruz breaks and one time proving ground of the old school big wave riders. However this far from an exercise in branding propaganda or a mid-life crisis in middle England, Steamer Lane is a real Mum and Dad surf brand, cast from the same humble beginnings as the early pioneering brands of the 1960s and 70s, born out of a passion for the lifestyle and creativity rather than commercial motivation.
Phil and Antonia are effusive about the ethos of the label: "We wanted to create a real brand from a real lifestyle, based on traditional values of quality and service; Steamer Lane is more than just a label or a look, it's about an experience- from the initial concept and the first pencil drawing right through to delivery and opening the branded cardboard packaging."
Steamer Lane is exclusively available online via steamerlane.co.uk and all purchases come with free postage and returns in mainland United Kingdom.