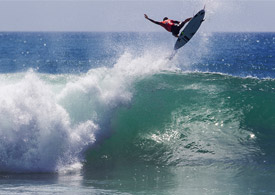 After four consecutive lay days the Hurley Pro was back on, with the first eliminations being dealt. Excellent overhead surf allowed for lengthy rides, and saw some strong performances from Filipe Toledo, Gabriel Medina, and Kelly Slater, to set the tone for an event to remember.

One of the most notable heats of the day saw Adam Melling leave the competition after his bout with Filipe Toledo during heat 11 of round two. Melling took early control of the heat, logging an impressive 9.17 for a succession of power turns. But Toldeo answered back with a flawless and highly technical rotating aerial on his backhand, followed by a giant, vertical snap that had the crowd fired up — including the entire competitors area. He logged a 9.83; despite Melling's efforts he couldn't match Toledo's performance and leaves the competition in an equal 25th.
[pullquote]
I saw Melling doing some big turns and getting a huge score, so I knew I had to do something crazy[/pullquote]
"I saw Melling doing some big turns and getting a huge score, so I knew I had to do something crazy," Filipe Toldeo said. "I know the wind is really good for airs so when the first left came I just went for it. When I landed I was surprised but I'm stoked to get through. I'm looking forward to more heats and more airs."
The first heat of the day saw World No. 1, Gabriel Medina, desperately trying to prove himself after he was defeated by the wildcard Costa Rican Carloz Munoz. Medina went head-to-head with Raoni Monteiro. The two spent the majority of the heat posting low scores, but Medina eventually went for it, and executed a beautiful air — pushing him back into the lead — he backed up his score with a frontside air grab. Monteiro answered with some backhand carves, foam climbs, and hacks, but it was too little too late. Medina took the win and will face Carlos Munoz again in round three.
"It's pretty tricky out there," Gabriel Medina said. "In the beginning of the heat we couldn't catch many waves. It was so slow and I was getting nervous. I'm just stoked to make it through. It's always hard to compete against a Brazilian guy but it's a competition and we just think about our job."
Despite a good-natured social media challenge from Jeremy Flores to World No.2 Kelly Slater during the lay day break, he proved to be no match. Slater was out to win and the 11-time ASP World Champ opened his campaign with an acrobatic air and mind-boggling white water recovery — taking the lead with an excellent 8.50. He backed up his score with a 7.43, leaving Flores in a combination situation. Although Flores gave an impressive performance, his mid-range scores would not be enough and he leaves the competition in an equal 25th place.
"I knew I needed to do something big, it was a little sloppy but I made it," said Kelly Slater. "Jeremy and I are good friends, we travelled together for years. That was a big heat for both of us being in round two."
Flores definitely felt how big the heat was, he said: "I really wanted to make that heat, I feel like I've been surfing really well in my free surfs but every time I put on a jersey I just put too much pressure on myself and don't get the results."
Current No. 4, Michel Bourez, opened round three with a solid 6.50, putting his opponent, Jadson Andre's, defence up. Andre posted some mid-range scores, but Bourez got the better of him — logging an 8.17. Despite Andre posting the first nine-point ride and the highest two-wave heat total of the day in round two, he wasn't able to beat Bourez and leaves the competition in an equal 13th place.
"You have to free surf a lot to get to know the spot, "Michel Bourez said. "It was hard to pick the right one but I'm glad that left came through and I was able to score on it."
[pullquote]Young gave it his all, pulling off a variety of innovative manoeuvres[/pullquote]
Heat two of round three was the battle of the goofy-footers. Nat Young and Adrian Buchan went head-to-head, taking off on their backhands, with a slight edge going to Buchan. Young gave it his all, pulling off a variety of innovative manoeuvres, but it wasn't enough to surpass Buchan's fins-free cutbacks, that earned him a 9.43 lead. With two minutes on the clock, Young found a bomb and followed a long cutback with a vertical snap, scoring an 8.10, but was just shy of the score he needed.
"It's incredible to surf Lowers like this," said Adrian Buchan. "I've been looking forward to having a heat with Nat for quite a while now. That was a big heat for me, the third round is really important. It looks like the next few days will be really good so I'm really excited."

Buchan's fins-free cutbacks earned him a 9.43 lead
The last two heats of the day saw Mick Fanning dispatch Tiago Pires in heat three, and Miguel Pupo take down Kolohe Andino in heat four. Heat three will continue when the competition resumes, next call will be around 3:30pm BST.
Hurley Pro at Trestles Round 2 Results:
Heat 1: Gabriel Medina (BRA) 13.83 def. Raoni Monteiro (BRA) 9.94
Heat 2: Kelly Slater (USA) 15.93 def. Jeremy Flores (FRA) 10.16
Heat 3: Taj Burrow (AUS) 12.66 def. Brett Simpson (USA) 7.87
Heat 4: Kolohe Andino (USA) 12.73 def. Travis Logie (ZAF) 11.74
Heat 5: Josh Kerr (AUS) 10.43 def. Aritz Aranburu (ESP) 10.07
Heat 6: Jadson Andre (BRA) 17.50 def. Bede Durbidge (AUS) 13.94
Heat 7: Julian Wilson (AUS) 13.23 def. Dion Atkinson (AUS) 10.17
Heat 8: C.J. Hobgood (USA) 15.43 def. Alejo Muniz (BRA) 14.50
Heat 9: Tiago Pires (PRT) 16.93 def. Sebastian Zietz (HAW) 12.74
Heat 10: Miguel Pupo (BRA) 16.94 def. Mitch Crews (AUS) 12.33
Heat 11: Filipe Toledo (BRA) 15.93 def. Adam Melling (AUS) 15.40
Heat 12: Kai Otton (AUS) 10.67 def. Matt Wilkinson (AUS) 8.83
Hurley Pro at Trestles Round 3 Results:
Heat 1: Michel Bourez (PYF) 14.67 def. Jadson Andre (BRA) 11.44
Heat 2: Adrian Buchan (AUS) 16.30 def. Nat Young (USA) 15.60
Heat 3: Mick Fanning (AUS) 13.60 def. Tiago Pires (PRT) 10.83
Heat 4: Miguel Pupo (BRA) 11.16 def. Kolohe Andino (USA) 10.93
Hurley Pro at Trestles Round 3 Upcoming Match-Ups:
Heat 5: Jordy Smith (ZAF) vs. Julian Wilson (AUS)
Heat 6: Gabriel Medina (BRA) vs. Carlos Munoz (BRA)
Heat 7: Kelly Slater (USA) vs. Tanner Gudauskas (USA)
Heat 8: John John Florence (HAW) vs. C.J. Hobgood (USA)
Heat 9: Adriano De Souza (BRA) vs. Filipe Toledo (BRA)
Heat 10: Taj Burrow (AUS) vs. Kai Otton (AUS)
Heat 11: Owen Wright (AUS) vs. Fredrick Patacchia (HAW)
Heat 12: Joel Parkinson (AUS) vs. Artiz Aranburu (ESP)