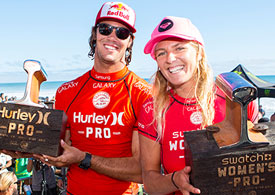 South Africa's Jordy Smith turned his year around after beating John John Florence and taking a last-minute win at the Hurley Pro, placing him at No. 11 in the rankings. Smith recently relocated to San Clemente and his local knowledge allowed him to pick the right waves in the final moments, stealing the lead from Florence. The final scores were 16.50 for Smith to Florence's 15.87.


[pullquote]
I started to think about everyone that's been supporting me and it helped me nail that last wave[/pullquote]
Smith's brilliant form saw him dispatch Adrian Buchan in the semifinals, and reigning three-time ASP World Champ Mick Fanning in the quarterfinals, before taking down Florence and solidifying his first WCT victory of the year — and fourth of his career.
"I feel unbelievable," said Jordy Smith. "To be able to surf against the best surfer in the world at the moment is incredible. I started the heat really well but right toward the end I started to think about everyone that's been supporting me and it helped me nail that last wave. I knew I had to do something good. I'm over the moon, it's a dream of mine to win Trestles, especially after moving here."
John John Florence posted the highest two-wave heat total and single-wave score of the competition earlier in the day. He is now at No. 8 in the WCT rankings after defeating Adriano De Souza in the quarterfinals, and 11-time World Champ Kelly Slater in the semifinal, it was the second time in the event that Florence topped Slater.
"I was hoping that Jordy's wave wasn't going to be enough but he got it," said John John Florence. "It was really hard to surf out there and good job to Jordy, he's been surfing good all week. I'm so bummed, I hate coming that close to winning, but it's given me some confidence going in to the next event.

Jordy Smith and Stephanie Gilmore reign supreme at Lower Trestles. Image: ASP/ Kirstin Scholtz
Earlier in the day Adrian Buchan eliminated current No. 1 Gabriel Medina in the quarterfinals, allowing Slater to gain ground at No. 2, Joel Parkinson at No. 3 and Mick Fanning in fourth. Parkinson lost to Slater in the quarterfinals. 
Filipe Toledo was awarded the Hurley innovation Award for his enormous backside air-rotation in round two heat against Adam Melling.
Hurley Pro at Trestles Final Results:
1: Jordy Smith (ZAF) 16.50
2: John John Florence (HAW) 15.87
Hurley Pro at Trestles Semifinal Results:
SF 1: Jordy Smith (ZAF) 14.10 def. Adrian Buchan (AUS) 13.30
SF 2: John John Florence (HAW) 15.10 def. Kelly Slater (USA) 14.10
Hurley Pro at Trestles Quarterfinal Results:
QF 1: Jordy Smith (ZAF) 15.87 def. Mick Fanning (AUS) 13.53
QF 2: Adrian Buchan (AUS) 17.43 def. Gabriel Medina (BRA) 14.77
QF 3: John John Florence (HAW) 17.37 def. Adriano De Souza (BRA) 9.26
QF 4: Kelly Slater (USA) 15.87 def. Joel Parkinson (AUS) 11.33
Over at the Swatch Women's Pro Final an all-Australian rematch of this year's Fiji Women's pro was taking place, this time clinched by five-time ASP World Champ Stephanie Gilmore. Gilmore posted the event's only perfect 10 and added a 9.50, taking the win over Sally Fitzgibbons. Final scores were 19.50 for Gilmore and 14.03 for Fitzgibbons.
However, second place for Fitzgibbons was still enough to move the 23-year-old to No. 1 in the rankings, while Gilmore sits behind her in second place, and Carissa Moore who was eliminated in round four has dropped to third.

Gilmore in pole position delivering a perfect 10