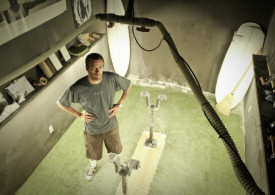 One of San Diego's most creative shapers, Jeff Mccallum, is returning to France next month to shape some boards at the UWL Workshop. The 29 year old shaper is on his second trip to France this year and brings with him a handful of new models and the experience of working with Joel Tudor. A perfect time for Rui Ribeiro to ask him a few questions.
RR: It's your 3rd time in France since the summer of 2009. It looks like Europe likes your boards?
JM: Yeah this will be my third trip to France and second this year. Things are going great. We've had a ton of positive feedback. I couldn't be happier.
RR: And what about UWL? Has this been a good relationship? What do you think about their work?
JM: UWL is insane, without their help it would be nearly impossible. I have a ton of respect for Renaud and his whole crew. They do amazing work. And each of them is extremely good at what they do. I'm stoked to be a part of it.
RR: This year we've heard a lot about you and Joel Tudor. What's happening? When will we see the new Kookbox boards you shaped?
JM: Joel asked me to make him a mini gun about a year ago, which we then turned into a kookbox model called the hollow point. It's a trippy tear drop that combines some Simmons principals and some principals of 70's style pintails. They're pretty mental, but designed strictly for hollow, fast waves. Then over the past year we worked on a few designs that are intended for a larger variety of waves and conditions. The final result is three models – a fish, a twin pin and a diamond tail. They should be available within the next couple of months. Then keep your eyes open for some guns, I just put the finishing touches to a 7'4" for this season at Pipe.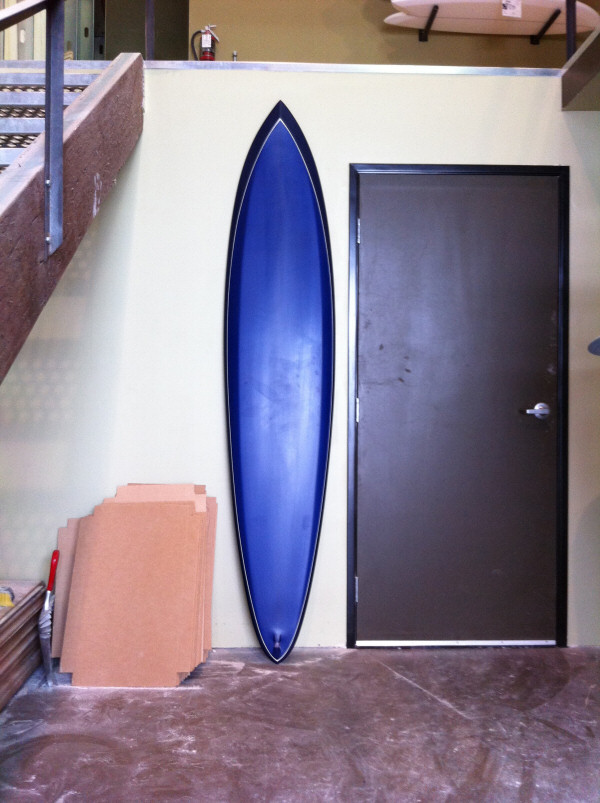 RR: You're also bringing a few new shapes to France, like the Stand Up Spoon, the Purple Stuff and the Sexy Time. Tell us about them.
JM: These models are a result of looking for something fun for the foot overhead and under conditions we have most of the summer. Each of them is completely different but all work insanely well in these conditions.
The Stand Up Spoon is something I've been working on for a few years and finally after some refining and input from my friend and Japanese distributor Nobu, we've dialled it in. It combines the speed and feel of a hull, which were created based on the original spoons, and the performance and forgiveness of a standard board.
The Purple Stuff is centred on my love of a twin fin. Twin fins have always been some of my favourite boards, and early last summer I wanted one for the smaller days at Blacks. The first day I had it the conditions were perfect, foot overhead super glassy all day and the board went mental, super fast and loose. I loaned it to Mitch Abshere and couldn't get it back to begin with, however I finally have it again and look forward to riding it again this winter.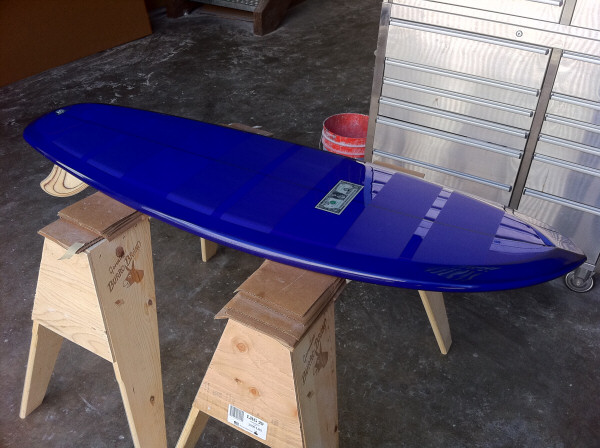 RR: Is everything you build always with performance in mind, never just to look good?
JM: For all my boards performance is always, without a doubt the most important factor. I design all my boards with a particular need or idea. Typically I make a prototype for myself, ride it, and then tweak it if need be, sometimes cutting fins off and moving them or adding a system. But then after they're dialled in I work on making them look good. My personal boards usually look like shit, but they have a specific purpose.
RR: Even after dreaming up so many amazing shapes you're still able to innovate and mix concepts to create unique surfboards. Is this just your way of doing things or is this the way to survive in a very competitive market?
JM: I try not to worry about the market and what other shapers are doing. The best part of my job is creating something new and unique, then figuring out how it works. I'm just happy and fortunate to be doing it in a time when people are open to different designs and ideas.
In conversation after the interview Jeff admitted that he had decided to retire from shaping in 2015. It was unexpected, and a lot of people will sincerely hope that he doesn't. He has a long and rosy future ahead in this industry.
Take a look at mccallumsurf-france.com for more info on the trip and Jeff's surfboards.