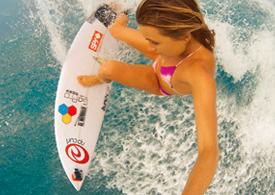 Microsoft have released test footage of a new app they are developing aimed at making hours of wobbly film into a beautiful timelapse which perhaps for once, your friends might actually enjoy.
The software creates a 3D map of the original footage and then analyses each frame of the video for shots that will link together smoothly. These 'points' are then connected together to create a slick, smooth timelapse.
It is a bit early to say how effective this will be in the surf, but it will certainly work great for the road trip and is definitely exciting.
The full algorithms and processes going on to make this happen are scientifically deep, so probably just best to get stuck into the footage…
For more infoamrtion visit www.research.microsoft.com/hyperlapse