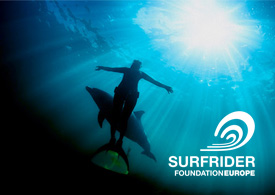 Did you know that 80% of the changes in our societies are decided within the European Union? This is the case for environmental policies and in particular the protection of oceans, the coast and its users. That is why Surfrider Foundation Europe is launching the "Vote for the ocean" campaign. The objective? Hold election candidates accountable. Surfers, divers, sailors, swimmers or simply lovers of oceans and beaches, this campaign is yours: seize it, get informed and above all mobilise your family and friends to vote.
To vote in the European elections is to make your voice heard and to help shape the society of tomorrow.
Surfrider Foundation Europe's "Vote for the ocean" campaign aims to give citizens the ability to place the challenges of protecting the oceans at the heart of the discussions during the European elections.
By consulting Surfrider's Vote for the ocean website, citizens will be able to:
• Question the candidates regarding 6 key marine issues via social networks and invite them to respond to Surfrider's questionnaire
• Discover the candidates' positions on the major marine issues defended by Surfrider.
This is a chance for all ocean lovers to really make a difference so head over to the Vote for the ocean website and make your voice heard!