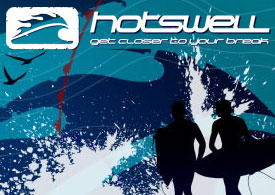 Hotswell the dynamic and easy-to-use interactive surf-forecasting has joined forces with Drift to deliver the most accurate swell reports.
The company who have only been in the surf market for just over a year are already making big waves with their precise reporting technology but they don't want to stop there.
"We are already covering a good section of Europe and are looking to push worldwide" Nick Gill, Co-founder of Hotswell told Drift. "We are really pleased with the way things are developing, both in terms of accuracy and the regions we cover" he added.
Publisher of Drift Tom Watts said "We are excited to be closing up the pieces of the jigsaw in what we can offer our readers. Decent forecasting is the lifeblood for any surfer not least in the UK but worldwide, so teaming with the up-and-coming force in this area is really great for Drift and even better for the readers"
For more information visit www.hotswell.com
RELATED: Best surf watches on the market