<

img class="alignleft size-full wp-image-4810" src="http://www.driftsurfing.eu/wp-content/uploads/2010/04/frontcoverpic.jpg" alt="frontcoverpic" width="275" height="359" srcset="http://www.driftsurfing.eu/wp-content/uploads/2010/04/frontcoverpic.jpg 275w, http://www.driftsurfing.eu/wp-content/uploads/2010/04/frontcoverpic-230x300.jpg 230w" sizes="(max-width: 275px) 100vw, 275px" />

Chris Preston caught up with Andy Haworth, the man behind a new British longboard film, for a sneak preview and to find out more about the man behind the lens…

North Devon is a beautiful place to live, a rugged coastline of wide sandy beaches and secluded coves. It's a fantastic place to be a surfer, especially if you enjoy the glide of longer equipment.

The area's natural beauty and the way surfers immersed themselves in it captured the imagination of a young boy on family holidays from Sheffield. Like so many before and after him, he convinced his parents to rent him a board and on his 16th birthday, way back in 1975, he stood up on his first wave and the hook sunk deep.

It took Andy Haworth another 30 years of growing obsession to finally make the move to the coast, helped in no small part by his son's obvious keeness and natural aptitude for surfing. In 2004 he moved his family to Landkey, a small village a few miles from the North Devon coast, retaining his job in the Midlands and facing 40 000 miles a year in the car to keep the life/work balance steady.

Many Surfers are creative people and Andy is no exception having painted, written peotry and made several of his own boards through the years. As his son, Ben, grew into one of the countries best longboarders, Andy picked up a camera to document and help promote him in what can be a difficult niche of surfing to make your mark. Inspired by other local filmakers he had a half formed idea to do somthing more concrete with the pile of tapes in his spare room but it took personal tragedy to inspire him to take the plunge.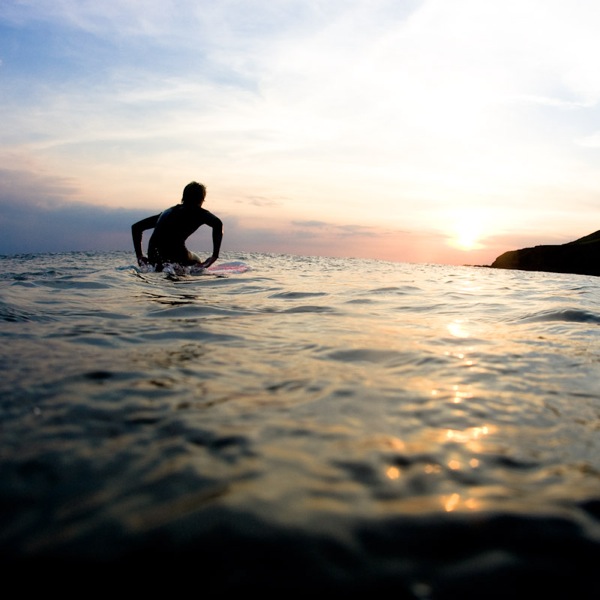 In April last year, Andy's sister was diagnosed with a serious form of cancer a difficult time in anyone's life and often bringing with it a desire to DO somthing to help. Andy himself jokes that he was hardly in shape to run from Lands End to John 'O Groats, instead it became the push he needed to embark on a surf film, with the intention of donating any profits to cancer charities.
A year later, almost to the day, I'm sat with Andy watching a preview copy of "Devon Lanes and Longboards".
It's an impressive debut but setting himself the target of a year from start to finished product certainly heaped the pressure on and was not without some difficulties. A few months in, Andy had to almost start again from scratch after computer failure forced a switch from Pc to Mac and a whole new piece of software to get to grips with. Add to that problems with the beurocracy of trying to work with various charities, leaving Andy scratching his head musing that it shouldn't be that difficult to give money away and it's ended up being a stressful twelve months.
With a deadline looming and working near Leicester for much of the week, almost every spare moment at home has been spent standing in front of a tripod or in front of an expansive Apple monitor. Andy describes the film as an attempt to convey the joy and sense of community that being a longboarder in the close knit North Devon scene brings and it's loosely organised around the changing faces of the spots and characters as the seasons change. The film has a relaxed pace, mixing some high quality modern longboarding with scenics that really convey a sense of the beauty in our everyday surroundings.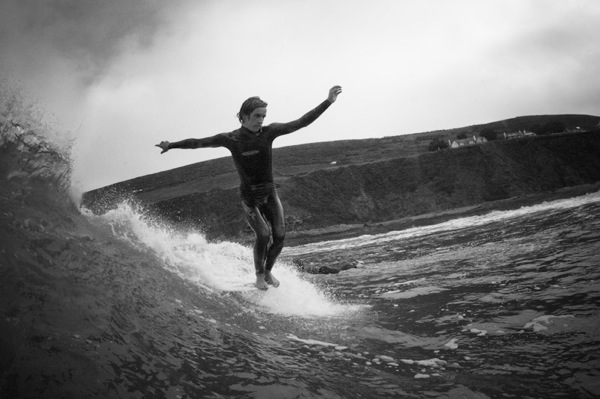 Ben Haworth features heavily, and that is perhaps to be expected, but he is ably supported by local standout Ashley Braunton and several others including younger up and comers like Greg Norman and Zak Lawton who are beginning to make a name on a national scale.
There is a voice over and I must admit to being slightly allergic to voice overs in surf films, especially British ones. I think they often come over as poor imitations of Bruce Brown. Andy, however is ot afraid to poke fun at himself and enlisted the services of a very Devon sounding fellow and it does work well as a result(honestly!)
The soundtrack reflects the mellow feel of the footage and meshes well with the visuals. The man responsible is singer songwriter Chris Warner, a chance accquaintance who offered to score the film and wrote eight new tracks specially for it. Initially Andy says he was unsure about just using one artist but the music is varied enough in style for this not to matter and if anything adds continuity to the idea of the year cycling through as each section fades into the next.
Overall it's a fine first effort and hits it's mark to showcase one of the biggest and most vibrant longboard scenes in the country. The final section especially will make you want to go surf, evoking the dying moments of a summer evening solo session,catching your last wave as the sun slips beneath the horizon. Despite it's obvious Devon centric focus, Andy hopes the film will have a broader appeal, as he says "good surfing is worth watching wherever it's filmed"
With this project nearly in the bag, Andy's thoughts are already turning to the next one. He says he likes the idea of a more documentary style film focusing in depth on a single surfer.
I have a suspicion his wife might have other ideas!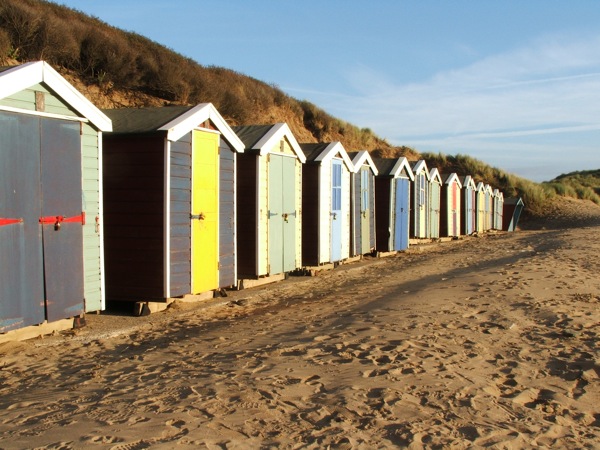 Devon Lanes and Longboards premieres at the Surf Show in Bristol on 24th April
The dvd will be available to buy for £15 from the end of April on the same website.
surf photos by Jamie Bott, huts by Andy, more of my musings at http://adventuresintrim.blogspot.com