It was an exciting first day of competition at the Quiksilver Pro France, with quality performances and a handful of big upsets.
The world's best surfers took to the lineup at Les Gardians in clean three-to-four foot conditions.


The former event victor and world No. 1, Gabriel Medina, took the win in an intense battle against wildcard Dane Reynolds, and Tiago Pires, in round one. Pires started quickly with a solid carving approach, but Medina was not far behind. Reynolds, however, took a slow approach to begin, but his third wave saw him back on track — only needing a solid backup score. Pires kept quiet until finding another wave, showing off a series of precise turns, but no matter how much the two tried they couldn't surpass Medina.
"That was a hard heat," Medina said. "Dane is always scary and Tiago has a lot of experience in these waves. I'm feeling good. my boards feel good and my surfing feels strong. France has a lot of special memories for me. I won the King of the Groms here and won my first WCT event here. I'm hoping to make more memories."
[pullquote]The French national has been a standout at heavy water venues around the world, but is yet to gain a major result in France[/pullquote]
Although Medina will advance directly to round three, his fellow title contenders Kelly Slater and Mick Fanning were both relegated to round two by Matt Wilkinson and Jeremy Flores.
Flores is into his eighth season amongst the world's elite, following a year of poor results and misconduct suspensions, and is currently fighting for his place on tour in 2015. The French national has been a standout at heavy water venues around the world, but is yet to gain a major result in France.
"This is a big event for me," Flores said. "I have had a tough year and I am fighting for my life on tour in these last three events. I've never had a strong result here in France and I'm hoping to change that this season. Getting a win over Mick, who I respect so much, in these conditions gives me great confidence for the week ahead. I appreciate all the hometown support I've received.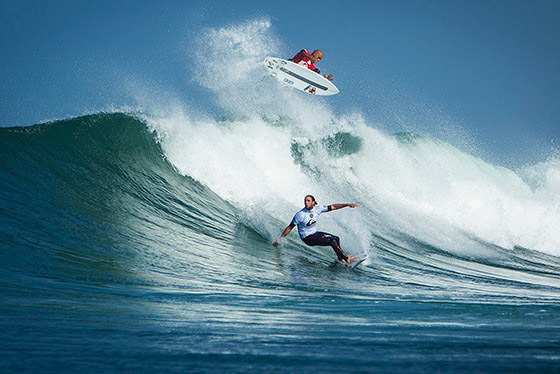 Kelly Slater and Matt Wilkinson trade blows in round one.
Current world No. 5, Michel Bourez, was another to benefit from the local support. A native of French Polynesia, Bourez spent many years in the South of France developing his world-class style. His bout with Sebastian Zietz and Brett Simpson was shaping up to be a fault line between Bourez's pure power-surfing and Zietz and Simpson's new-school tactics. 
Bourez attacked the lefts and rights with aggression, gauging the lips, and driving down the line with pure power.
Zietz and Simpson gave a nice air show with multiple front-sides and reverses, both with inconsistent success — which cut into scoring potential. Towards the end Bourez showed off his own skills above the lip, made a clean landing to take the win.
"It was a great way to start the event," Bourez said. "I feel very comfortable here. France is like my second home. The waves are fun today and I was able to try some more progressive surfing in my heat today. Stoked to get a win and very appreciative of all the support."
[pullquote]often considered one of the world's most dynamic surfers, but struggling to deliver results this year[/pullquote]
Julian Wilson was another impressive contender today, often considered one of the world's most dynamic surfers, but struggling to deliver results this year, he managed to take the win and relegate John John Florence and Jadson Andre to round two.
Considering Florence's and Wilson's abilities in the air, heat eight was bound to be an air show. Together they put on an incredible display, with air reverse, rail grabs, and tail slides.
However, Florence's manoeuvres fell short, affecting his scoreline. He manages to log an 8.83, but was unable to follow up his recent performances at Trestles and Teahupo'o. The heat then turned to a battle between Wilson and Andre. Andre worked perfect turns, whilst Wilson connected clean turns with an arsenal of airs, grabs, and floaters. He scored a pair of eights and took the win.
"Feels great to get a heat win like that," Wilson said. "I feel like I've been surfing well all year, but have had trouble translating that into results. To get a win for surfing like that is food for the confidence. I feel like I'm due for a result this season. Hopefully we continue to get fun waves here in France."
When the competition resumes Kelly Slater will take on Dane Reynolds in the much anticipated opening heat of round two.
Words from Louis Hall. Catch him at @LHall69

Slater picks up a clean 9.0
Quiksilver Pro France Round 1 Results (1st advances to Round 3, 2nd & 3rd to Round 2):
Heat 1: Taj Burrow (AUS) 15.16, Fredrick Patacchia (HAW) 14.97, Travis Logie (ZAF) 14.10
Heat 2: Michel Bourez (PYF) 16.33, Sebastian Zietz (HAW) 11.80, Brett Simpson (USA) 9.93
Heat 3: Jeremy Flores (FRA) 16.73, Mick Fanning (AUS) 13.00, Filipe Toledo (BRA) 12.84
Heat 4: Joel Parkinson (AUS) 15.50, Raoni Monteiro (BRA) 10.83, Kai Otton (AUS) 5.17
Heat 5: Matt Wilkinson (AUS) 14.67, Kelly Slater (USA) 14.50, Matt Banting (AUS) 13.43
Heat 6: Gabriel Medina (BRA) 15.17, Dane Reynolds (USA) 14.56, Tiago Pires (PRT) 13.43
Heat 7: Adriano de Souza (BRA) 15.90, C.J. Hobgood (USA) 13.76, Aritz Aranburu (ESP) 8.43
Heat 8: Julian Wilson (AUS) 16.77, Jadson Andre (BRA) 14.00, John John Florence (HAW) 12.73
Heat 9: Miguel Pupo (BRA) 15.16, Kolohe Andino (USA) 14.03, Dion Atkinson (AUS) 10.90
Heat 10: Adrian Buchan (AUS) 14.60, Alejo Muniz (BRA) 13.84, Nat Young (USA) 12.06
Heat 11: Jordy Smith (ZAF) 12.43, Bede Durbidge (AUS) 12.00, Mitch Crews (AUS) 11.14
Heat 12: Josh Kerr (AUS) 15.23, Adam Melling (AUS) 12.00, Owen Wright (AUS) 10.43
Quiksilver Pro France Round Match-Ups (1st advances to Round 3, 2nd Finishes Equal 25th):
Heat 1: Kelly Slater (USA) vs. Dane Reynolds (USA)
Heat 2: Mick Fanning (AUS) vs. Matt Banting (AUS)
Heat 3: John John Florence (HAW) vs. Raoni Monteiro (BRA)
Heat 4: Kolohe Andino (USA) vs. Brett Simpson (USA)
Heat 5: Nat Young (USA) vs. Travis Logie (ZAF)
Heat 6: Owen Wright (AUS) vs. Aritz Aranburu (EUK)
Heat 7: Bede Durbidge (AUS) vs. Jadson Andre (BRA)
Heat 8: C.J. Hobgood (USA) vs. Dion Atkinson (AUS)
Heat 9: Fredrick Patacchia (HAW) vs. Alejo Muniz (BRA)
Heat 10: Sebastian Zietz (HAW) vs. Mitch Crews (AUS)
Heat 11: Filipe Toledo (BRA) vs. Adam Melling (AUS)
Heat 12: Kai Otton (AUS) vs. Tiago Pires (PRT)