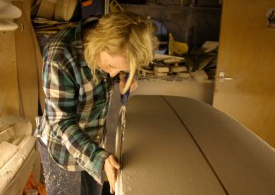 I've just come to the end of a pretty fun experience that hopefully marks the start of many more surfing adventures.
After riding a beaten-up old log for lots of years now, I finally decided it was high time for a new steed. I'd wanted a new board for a couple of years but was being indecisive. Having an inquisitive mind meant I wasn't really content to just go and buy one I liked the look of. Longboards, being that bit more pricey, are an investment that, in my opinion, requires careful consideration. Lots of time went into researching different shapes, shapers and styles. My natural inclination has always been toward the much more graceful style of traditional log riding rather than progressive longboarding, so an old-style singlefin it was to be.
Next on the agenda, go local or get a Cali import? At nearly half the price of a Californian board I could get something totally custom, and the deal was done.
The choice of shaper was pretty easy: CJ has been in the industry forever, starting off years ago at Bilbo and now, with over 50,000 boards under his belt, I knew he'd get it right.
Back in the day he was a human shaping machine, getting out eight boards a day. But this one was to take a little longer, because he invited me to take part. After an hour or so kicking back in the armchairs in his workshop talking design, we'd come up with an idea of the shape. I wanted a nice rounded nose with a bit of concave, a fairly square tail, lots of volume for those small, clean, summer days, low rocker with a bit of tail kick and nice old-school rounded 50/50 rails. I like the wide nose of the Takayama Model T. Chris had a template but it was a pintail; I wanted a slightly wider squarer tail so we combined a model T template for the nose with a 40-year-old Bilbo template for the tail. I was stoked that he was happy for me to watch the magic happen, but it didn't stop there.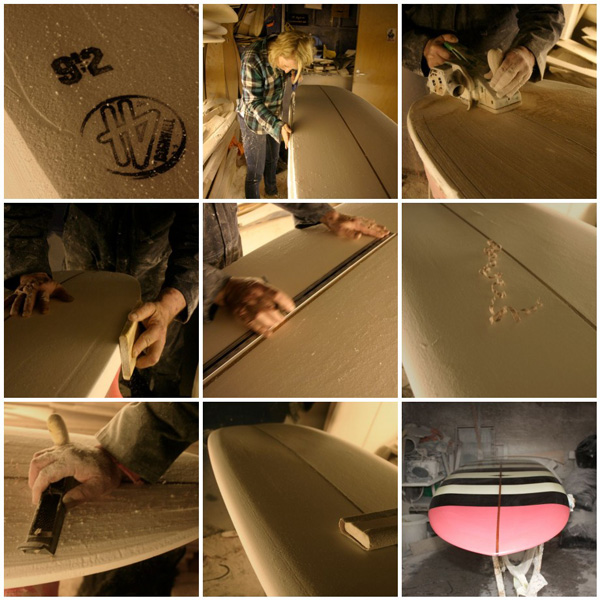 Template drawn on, he handed me a jigsaw. Whoa! Steady on now… But he kept a close eye and I stayed on the pencil line. Next, I hand-sawed the rest of the blank, on a roll. I kept my distance from the Hitachi, but did most of the sanding, planing the stringer and rails under close supervision.
My indecisiveness kicked in again when it came to spray/tint. I was getting lots of advice to keep it simple and go traditional, maybe just a resin tint with a pin line. Moi? Nah.
Getting involved with the creation of my new board in this way was so much more satisfying than giving someone some dimensions and picking it up a few weeks later. I don't for one second profess to be a budding shaper, and the skill that goes in the minutae of the design is not to be underestimated. But if you're interested in what you're buying, my advice to anyone is: go along, don't be a spectator. If you can find a shaper willing, get involved, be a part of the process.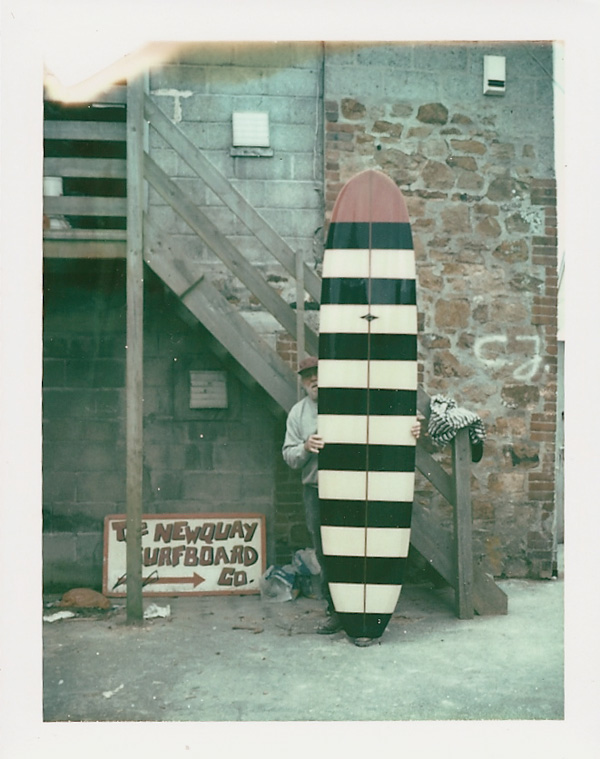 So here she is, love it, hope she rides as well as I imagine she will, need these northerlies to go away so her maiden voyage can be a proper nice clean logging session.