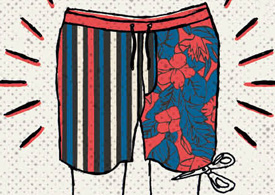 Australia's fun-comes-first surf label "The Critical Slide Society" launches in the UK with exclusive custom boardshorts event this weekend.


The TCSS are bringing "Bespoke Goods" customised boardshort to the UK for the first time with a tour of the country. This celebrates the Spring launch of TCSS in the UK with a unique opportunity for customers to design their own personal unique shorts so they don't have live in the mainstream.
Bespoke Aloha Goods will be at Watershed in Newquay on Friday 16th May before continuing to Coast in Dorset on Saturday. This forms part of a global tour that will include Spain, USA, Japan & Australia.
Customers will have the opportunity to design their own boardshort alongside the award winning design team from TCSS.
The TCSS tailor will initially take the customers measurements and then they can choose from 6 fabrics, 3 drawcord colours & 4 patch designs to allocate to a short that boasts 10 individual customised panels. This process takes about 30 minutes and the chances of someone then having the same shorts as you are slim to none!
The mens boardshort outline is based around the TCSS award winning "Sea, Sex & Sun" boardshort design that won "best boardshort design" two years in a row in Australia beating the mainstream global surf corporations such as Quiksilver and Billabong.