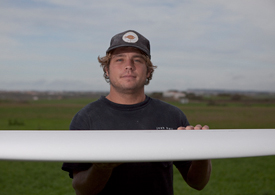 I spent most of last Thursday morning watching Josh shaping my new board. From his hands sprang an amazing Long Fish Simmons, mixing the best elements of the Skip Frye design with some of his own design touches. She looks great and all the details make sense – I'm sure it's a keeper!
We had just one blank left at the factory, and after a delicious pepper steak for lunch we figured we had time to fit in a quick drive around the area's tourist spots. Josh was only here for a week, and we wanted to fit in as much as possible in the short time, so we headed to the atmospheric old town of Sintra – famous for his historical buildings, luxurious gardens and ancient palaces – and had a quick sightseeing tour encompassing Castelo dos Mouros and Palácio da Pena, residences built for past kings and queens.
From Sintra we drove to Guincho. The old road goes across the mountains and is flanked by old trees and gardens. It's wet, foggy and curvy, and back in the days it helped to keep visitors away from the royalty.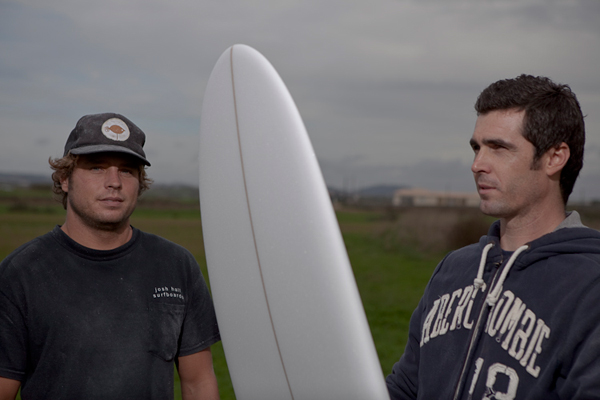 Arriving at Guincho we finally set eyes on the ocean. It was too windy for surfing – the wind was blowing the sand off the dunes – but there were still a few nice waves out there. So we kept driving to Cascais. The road winds along the coastlineand we enjoyed the fresh sea breeze. Cascais is a beautiful city by the sea, just 30km from Lisboa. Once a small fisherman's village, it gained fame in the late 1800s and early 1900s as a resort for Portugal's royal family. Nowadays it's one of the richest cities in Portugal and home of rich and famous, so we just drove by!
Our next stop was Sao Pedro do Estoril. The coast there faces south and is protected from the big swells and the north wind. There were a few nice waves breaking and a small right-hander, perfect for longboarding, captured Josh's attention.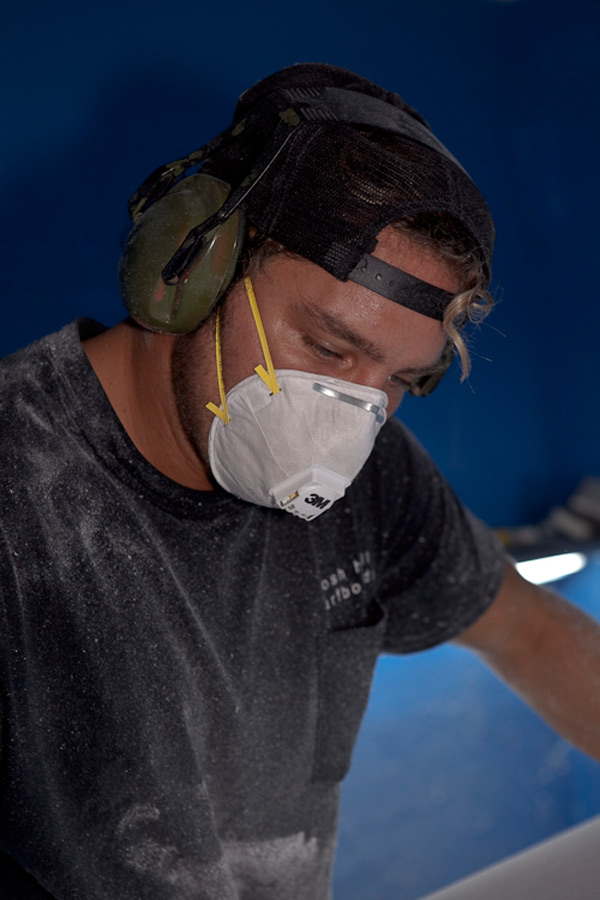 We stopped at the shop where Nico is showing his boards because Josh wanted to check out his work. While we were there, Josh got a last-minute order, so he had to head straight back to the shaping bay and turn out his last board in Portugal – a 5'8 Mini Fish Simmons Quad. Then it was time to clean up his tools, check logos and glassing details, before it was over.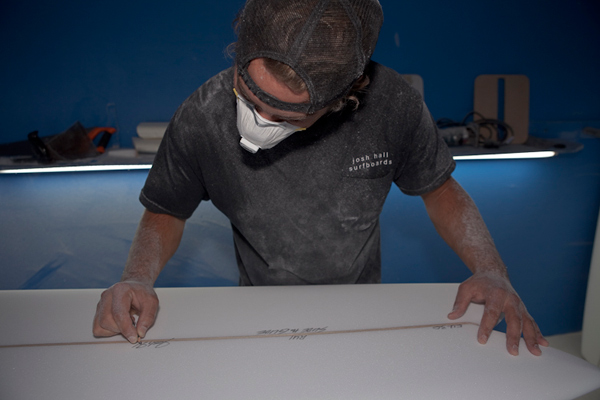 It was time to say goodbye. Josh's trip was coming to a close and we were already talking about a new one.
Organising a trip like this takes time and money and it's always a risk. It's important that all the people involved get along both professionally and personally, which can make the difference between failure and success. This tour wasn't perfect, but it came out better than expected and in the end everybody was happy and up for doing it again. The smiles on our faces said it all!
I have to thank Alexandro (Southcoast blanks and Lokbox Fins), Pedro (carpenter and factory handyman), Hugo (photographer) and the man who made it possible for me, my good friend Nico. Without you guys I couldn't make it.
And last but not least, the customers, for their trust.
Now it's glassing time! Nico's got a lot of work ahead of his – I'll be back with more about that very soon…
[All photos by Hugo Correia]