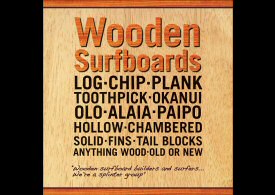 After the success of the first Wooden Board Day at Currumbin Alley last August, Grant Newby (of Fish Fry fame) decided to organise another for Sunday 8th of August in the park across the road from the beach.


There is a growing interest in wooden boards world wide and this will be a simple gathering of like minded people to come and see what others are doing or showcase their latest craft. If you have any interesting boards of any shape, size or age, bring them along to this event. Boards can be hollow, chambered or any other method of construction as long as it is a wooden surf board. The event is a non-competitive , non-commercial day in the park. So bring your boards lunch and check out what's going down at the Wooden Board Day.
For any more information check out www.woodensurfboards.blogspot.com or email [email protected].
RELATED: Wooden Surfboard: Interview with Arbo Surfboards