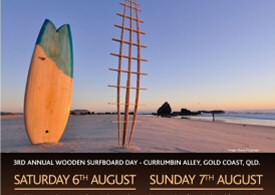 This year's 3rd annual wooden surfboard day was a great success. It all started with Saturday night at the Gold Coast Surf Museum where three very talented shapers and board builders shared their talent and experiences with the 100 odd people gathered.
First up was Mitchell Rae from the Scotts Head area of NSW where he shapes for his Outer Islands Surfboard label. He has been shaping for some 30+ years and favours balsa when building wooden boards. He has shaped them in the jungles of West Java from local balsa and for many well known surfers. Chambering is his preferred method with a layer of 4 oz glass. It has been said, "His influence in Australian surfboard design has been considerable and could be said to parallel what the Campbell Bros (creators of the Bonza) did in California. Yet he remains at the cottage industry level of production. He has followed his own path, remained his own man, stayed underground and never been seen to beat his own drum". Today Mitchell continues to make unique craft for a largely custom market, and is widely known for his concaves, balsa guns and the "spirit eyes" which feature on the front of his boards.
Mitchell was followed by young student and university tutor Mike Grobelny from Auckland, New Zealand. Mike has just graduated with a Masters in Furniture Design from Auckland University of Technology. As a project he had looked at numerous organic ways of building a surfboard such as blanks from cereals, popcorn and the like. But decided that surfing on a board made from food while people in other parts of the world were starving was maybe not the right thing to be doing. So he settled on soild sustainable woods such as paulownia and bamboo.This he set about with his new found hi-tech computer aided skills and a CNC router. From the solid block was carved over some 6 hours a 3D hollow surfboard that really needed very little hand finishing. The main body of the board was cored out with a honeycomb pattern to lighten the board and provide a tight platform for a 1.8mm 3ply of bamboo to be used as the only deck skin. No fibreglass to seal it, just gum turpentine and wax. Very technical, but in the end very simple. Light, definitely head turning and cutting edge. He has only ever made 6 boards and he had 4 of them on display. It will be very interesting to see where he goes with this and what the future holds.
Paul Joske resides in the Nambucca Valley on the mid North coast of NSW and has been building surfboards since 1969. In 1970 he founded Valla surfboards, which he still operates today with the assistance of his son Sage. His involvement with timber goes back to his youth when he built a twin fin belly board out of balsa, followed by his first surfboard which was hollow plywood. He has always been interested in using wood for surfboards. In 1998 he was commissioned to build the first paulownia surfboard in Australia, which was a huge success and saw the attributes of this timber realised. The board was to be a green as possible with hand made Ebony fin boxes and fins. With only a little glue holding the chambered beams together and a coat of gum turpentine and wax to seal it. It weighs in at only half a kilo more than a foam board of the same dimensions. Paul's interest in surfing and surfboards is broad, both in the water and in the shaping room. He relishes the challenge of different designs and timbers, and building one-off specialty boards.
The Museum is such a great venue for this sort of gathering and has a wonderful collection of boards to inspire anyone interested in surf history.
The following day Sunday 7th August we were greeted with a beautiful day in the sun, but unfortunately northerly winds pushing the swell around. Not to worry there were plenty of great looking boards laid out in the park across the road from the beach at Currumbin Alley. All shapes, sizes and ages. But one common denominator was that they were all built in a variety of woods. There is no easy way to build a wooden surfboard, no matter what size. So what you find is that there is a great deal of stoke and mutual respect for anybody who has brought a board along and laid it out on the park. No matter what the outcome to ride a board you have built yourself is a great experience. A great journey of discovery really. You learn an awful lot about yourself.
For most of us it is a balance between desire, skill and the tools we have at hand. On the other end of the scale there were a number of carpenters, cabinet makers, furniture builders and other wooden workers who surf and decided to build a wooden board. First timers, self-taught and long-term shapers. A great mix of experiences and this is what the day is all about. Getting together with a bunch of like minded people and sharing what we have learned and being inspired by others around us. There are so many ways to build a board and there are so many variables and by sharing our experiences we all learn so much faster. Every thing from kookboxes to handplanes were on display.
There were young kids there looking to start a school project, to 80+ yrs Barry Regan from Ballina who builds beautiful old-school boards. A 1958 solid balsa pig shaped by Dale Velzy was great to see out there amongst the shiny modem shapes.
There is a lot of interest in wooden boards worldwide for a variety of reasons I suppose. You can build a board with a small selection of hand tools and very little mess. If it is built from paulownia you can save a lot of weight, money and mess by not having to glass it. It is something you can work away at when you have time and at the end you have created something very personal that you will have a great connection with. They will last a lot longer than a foam board. Mitchell Rae still surfs one he shaped some 24 years ago that still looks as good as the day he finished it. They can stay in the family for years and be handed down or hung on the wall as an treasured piece of art.
So if you didn't manage to get down to check them out this year be sure to look in next year on the first weekend in August or check the blog to see what others are doing at woodensurfboards.blogspot.com
RELATED: Wooden Surfboard: Interview with Arbo Surfboards