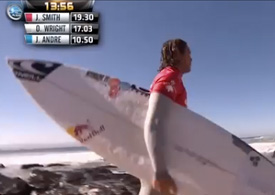 ASP from J Bay
Even the legend that is Tom Curren thought the Goofies were going to go all the way but the South Atlantic had other plans.
Wilko blazed through ten-foot sets and on any other day, against any other surfer he would have been in the final, but the southern oceans were too much for backhand surfing.


It needed the finesse of forward-looking eyes to project moves down the line and judge those almond barrels. However violent and committed Wilko and Wright were they couldn't compete against the Cooly Kids.
In a thrilling final, Fanning out Parko-ed Parko. Starting early and looking smooth and fast, he lit the place up. Parkinson looked ruffled as if he had peaked in the previous round. This might have been an excuse except Fanning was on his fourth surf that day and did the boy look hungry! In front of a crowd that had driven from as far away as Cape Town Fanning carved and snapped along perfect J Bay finding barrels that Parko just couldn't seem to escape from.
Watching Fanning take the place apart you'd have to at least consider a flutter on White Lightning.
[pullquote]One title that is safe however is 'Least likeable surfer'.[/pullquote]
With five events left the 2014 race is on. One title that is safe however is 'Least likeable surfer'. It's a one horse race and the ever-stroppy Jeremy Flores is in the lead. After storming the judging tower and allegedly punching a wall or swinging wildly and missing a judge (depending on your source) Flores found himself with an unprecedented two-event ban. The sulky Frenchman was left picking up his toys instead of booking flights to Tahiti. D'oh!