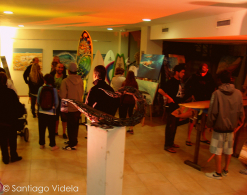 In this review, we spend 2 days on the Expo Surfearte with a group of  local shapers , painters , designers  and  photographers showing their best pieces of work.
It is almost a revealed truth: behind every surfer or ocean lover, there is a sensitive spirit which try to express itself as many times as possible. Shapers, music, paints, sculptures, photographs, designs, everything is allowed when we need to express our feelings. last weekend, at miramar beach, there was a perfect example about this: Surfearte Expo. This exhibition, on the word of the organizers: " its a Collective experience about art ,taking the surf as a religion, trying to grow and spread between other beaches.
Now, the facts. During 3 days , on the Miramar city hall there was 25 expositors showing their best work . In the Painting sector, there was remarcable works by Javier D`onofrio, Victoria Canales,Romina Cejas, Lucila Gil , Delia Eyras, Carlos Valentini And Gonzalo Brochon (one of the organizers). The styles mixture showed the growth and quality of the local scene .
The Surfboards sector was really impresive, showing retro and classic shapes from Luana surfboards, beautiful longboards from Jah Ras surfboards and a modern and cutting edge style from AP surfboards. Is really noticeable the work with wood shapes from Gustavo Lumbreras and Pablo Bacchi.
The multimedia/video sector was amazingly funny and was because the guys from Sessions Miramar are working in a really professional way, showing video footage that makes you want to go out and paddle on that very moment.
As one of the expositors, was a surprise to feel the collaborative spirit between the artist, is not very common feel the good vibes and the effort to keep the event on the best way possible,
To keep this review short but interesting , the Lovely couple from "El Tallercito Grafico" (Nicolas Dopchiz Mónaco and Erica Braun) showed lovely beach bags, and other different stuff to keep an eye into, and on the photograph stand Leo Marcos showed really awesome shots. I will no comment my work, i will just say i was showing some Hawaii, Brazil and California shots and that im really happy to be part of this .
As a brief: we live in Argentina, South America. Really far from the best surf spots in the world but is pretty clear that no matter what we do or where we live, the ocean inspires us in a way beyond words. When Neptune calls nothing matters.
So please. Keep an eye and support these artist/shapers/photographers (all of them are on facebook) , because leaving distances aside, we are not so different.
Santiago Videla (Editor)