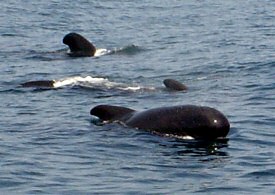 More gloom on the subject of policing our oceans. Talks broke down regarding whaling at the IWC (International Whaling Commission) talks in Agadir.
In negotiations for days in Morocco, any attempts to work out a deal between whaling nations and the anti-whaling bodies at the International Whaling Commission's (IWC) annual meeting have not gone well. After two days of talks, the delegates reported that they had not managed to reach any agreement on the key principles being discussed. The deal would have put whaling by Iceland, Japan and Norway under international oversight for ten years.
Conversely, some anti-whaling action groups welcomed the lack of agreement on the proposed draft agreement, as in their opinion this would have meant a green light for the whaling activities of Iceland, Japan and Norway.
Talks on a solution had been going on for two years, and it now looks like a further year's stagnation is on the cards.