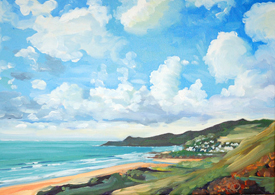 Steve Plydell-Pearce (aka Steve PP) is an impressionist artist and former animator living an envious lifestyle by the beach in Woolacombe – painting and surfing the inspiring littoral of North Devon.
"My paintings are all about light and colour," says Steve, whose style is influenced by the work of California impressionist artists like Kevin Short, Ken Auster and John Comer, and the classic surf art of John Severson.
"Looking at good art will always influence and help your painting, but in the end your own style will always take over – I think the same can also be said of surfing."
Born and bred in Devon, Steve grew up in Weston-Super-Mare, where his interest in painting was sparked at a young age: "Drawing and painting is something I have always done, it's just in me. As a teenager I used to sell chalk drawings on the promenade in Weston," Steve explained. His father first introduced him to surfing when Steve was a teenager, and Woolacombe and other North Devon beaches were their haunts of choice.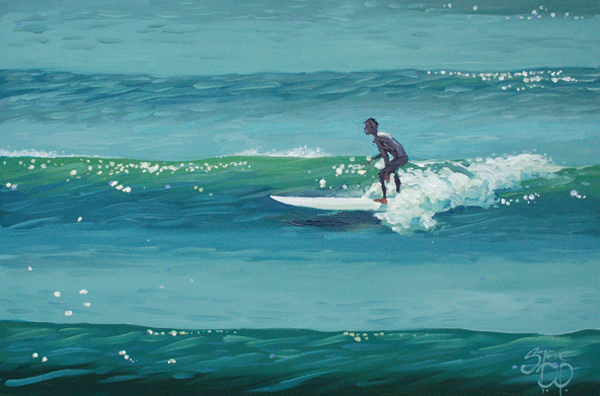 After studying graphic design and animation at Leicester Art College, Steve moved to London and worked with the famous animator Bob Godfrey, whose creations include the cult classics of many an 80s child's formative years, 'Rhubarb and Custard' and 'Henry's Cat'. After working in London on classics like 'Count Duckula' and 'Danger Mouse', Steve also spent stints in Manchester and Athens working as a freelance animator. "While I was living away from the coast, I took every opportunity I could to go surfing – weekend (or longer) trips to Ireland, Scotland, NZ, Fiji, Hawaii, California and France. One time, I even bodysurfed perfect, head-high waves on the Greek coast," says Steve.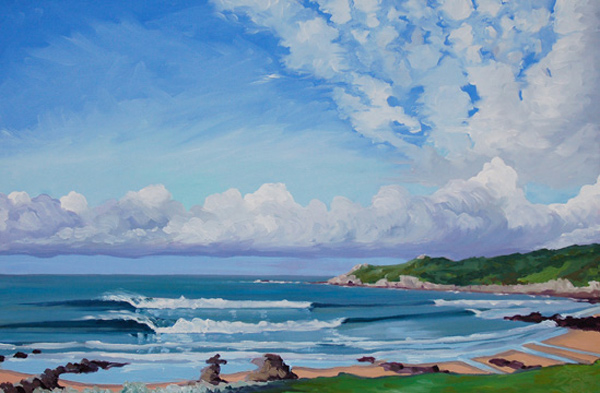 By the mid nineties, the lure of easy living and more sliding opportunities brought Steve back to his Devon roots. He made Croyde his home after taking up the offer to run one of the local surf schools. "I continued to paint and sell the paintings in my spare time until I started to make more money from my art than the surf instructing. Since then I have worked full-time as an artist and based myself in Woolacombe," Steve explains. "Saunton and Croyde are so crowded these days, but you can still find your own space at Woolacombe and there's a really strong family-orientated community here, so the town doesn't die in the winter. The light, colours and changing seasons inspire my work, and a good day here reminds me so much of California."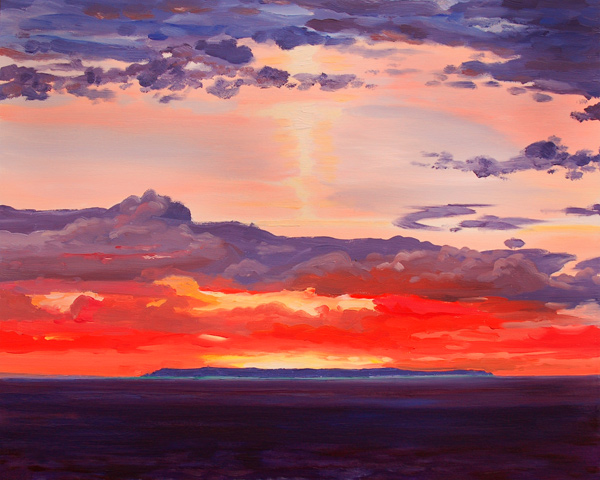 "I love stylish surfers like Phil Edwards," says Steve, who, when he isn't painting, can be found gliding around Woolacombe's beach break peaks on his 11-foot Skip Frye longboard. He's even featured in Rich Gregory's forthcoming film ONEDAY.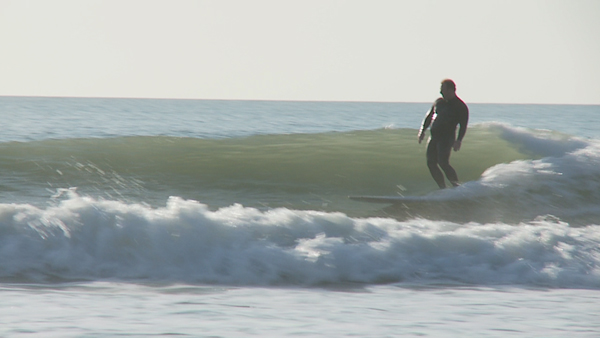 You can check out more of Steve's work on his website and blog, or at The JC Gallery in Braunton. This summer there will be an exhibition of his work at the Landmark Theatre in Ilfracombe (5 July to 5 September).