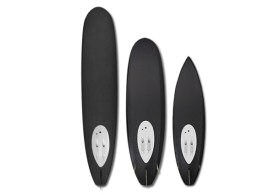 Flicking through WIRED on a Saturday morning I nearly fell out of my chair when I saw this one. A jet-powered surfboard.
I'm a traditionalist, and prefer to paddle, but WIRED were quick to point out that with a half hour battery life, you may well have to anyway. With lithium-ion batteries and twenty pounds of thrust, it will surely propell you effortlessly into that two foot shore dump at most British spots this summer. Indeed at my local break, you could even grab a twenty minute session and still have enough power to glide across the sand, right back into the car park, a good ten minute walk at low tide.
Joking aside, it may well have some important implications as a rescue craft, making the dash out into the ocean faster. And as the makers rightly point out, it could just save your life if you've run out of steam. As a piece of engineering you have to admire this kind of creation. It's no mean feat to design and build something which can deliver this kind of power.
As a traditionalist, I think I'll agree with WIRED though, less is more. Although it might be fun to see what kind of response you get charging your surfboard in the car park between surfs.
Check out WaveJet.com