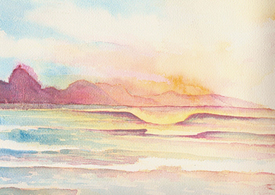 Painting in watercolour and riding a wave are activities connected within the same essence – making art with water. (Words by Luciano Burin – read this article in its original Portuguese on Luciano's blog www.surfecult.blogspot.com)
André Cortes is a Brazilian artist who best represents the true spirit of surfing through painting, with a sensitivity sharpened by a genuine appreciation for the ways of the sea.
Portraits of a perfect solitary wave breaking, a father teaching his son to stand on a board, and a bodysurfer fitting into a perfect tube are just some of the snapshots of surfing that André incorporates into his work. The resulting pictures capture the art of sliding through the waves.
Here, this artist and university lecturer from Rio de Janeiro – a Grumari beach local surfer known by friends as Cinquentinha – explains a little bit more about his work, influences and the role of art in surfing and education…
How did you come to combine a love of surfing with art??
I am an artist and illustrator by trade – I graduated in industrial design at PUC-Rio University, where I currently teach drawing and design.
My artistic involvement with the ocean and surfing started naturally with the fascination I always had with its movements, colours and symbols. Surfing and painting have always been personal means to seek a deeper connection with the water in physical, mental and spiritual senses. The means of expression I have always favoured is watercolour painting – the water technique.
Where can we see your work?
I've produced some designs for Veltra and Art in Surf. I've also shown work at the surf art shows sponsored by Alma Surf magazine, created illustrations for the Hang Loose movie 'Quintal de Casa', and contributed watercolours to the music video for 'All Over' by Brazilian singer Paula Toller (which features Donovan Frankenreiter).
What's your view of surf culture in Brazil??
I believe that what we call 'surf culture' in Brazil is still very much tied to what this concept means in other surfing communities abroad. I still see people having great difficulty making their own identity, instead insisting on following ready-made models. I also believe that the place of art in the education of our young people is still very limited, causing the production and consumption of a culture that is not connected with our true artistic expressions.
What are your artistic influences??
My main references tend to come from the world of art and popular culture. My master, Agria Urian de Souza, a painter form Para ( in the north of Brazil) who's a great lover of water and black culture is a massive influence on my work, as is Carybé, another important name in a long list of artists who have portrayed our land and our people.
What are your plans for the future??
At the moment I am concentrating on my research into elements of black African culture in Brazil – particularly the richness of Afro-Brazilian religious iconography in popular culture.
I have worked on projects with African-origin communities in Brazil, through partnerships with organisations such as the Quilombo Association in Paraty and Jongo da Serrinha in Madureira, Rio de Janeiro. At some point I would like to produce some paintings for art books, exhibitions, videos, and animations related to this portrayal of our regional culture.