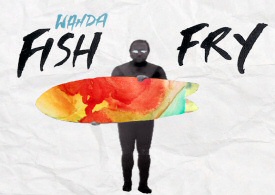 Ben DiDonato, doesn't sound familiar does it. Well, it shouldn't. I am not the best surfer on the beach, not the best shaper in the country. I am not in magazines for my adventures. I just have a huge passion for surfing and would probably have the most fun surfing then anyone else.
I started surfing in 2006, I was around nineteen I think. My room mate Caleb would make me come out and try to surf. He would force me to watch surf DVDs of the Malloy brothers, Rasta, Tudor, Knost and Donavon. It mostly consisted of Fish or 'alternative' surfboards, as did Caleb's quiver. That's when my obsession began.
My first board which I still have is a 5'10 Al Merrick fish, not the kind with the tiny swallow tail and thruster setup up. It features two huge keel fins, a little rocker, loads of foam and an expensive heavy glass job. From there I acquired over a dozen fish, logs, alaia and single fins. Once Caleb left for greener pastures I relied on these DVDs for inspiration to continue.
Three years had passed when I discovered the Alley Fish Fry website and I was blown away. I knew I needed to get up there. It was perfect, m old friend Caleb had married and moved near The Alley at Currumbin and we dropped by to catch up. As soon as I landed in Sydney I knew Cronulla needed an event like this, so I spoke with Grant Newby from The Alley Fish Fry and at the end of the call the Wanda Fish Fry was born.
I am always asked what's in it for me. The answer is simple, nothing. I joke and say that I am building my shopping list for boards. My motivation isn't commercial, the Fry is a celebration of shapers and board riders. There are so many people to thank for they're help along the way.
So thank you – you know who you are.
wandafishfry.tumblr.com