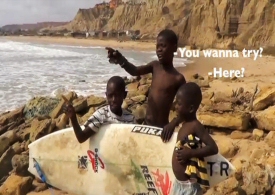 Our Man Kepa has just returned from an amazing trip to Angola. Over the next few weeks vstr.com will be featuring the short films he has made documenting his travels.
Angola started like every good story starts, not knowing exactly what was gonna happen, where I was going and who I was gonna meet in a country of a hard history. The big and unknown continent, Africa 40 years of wars in Angola, poverty, misery and tuff conditions for a white man with a surfboard.
It´s pretty scary feeling, hard to describe how that fear, somehow, makes a surfer feel alive. It´s a great feeling, like being born again. You want to find the waves, but also, you need to meet people… and that is what will make the surfing experience go to another dimension. You know that, apart from the surf adventure, it will be a fascinating human experience that you would never ever forget.