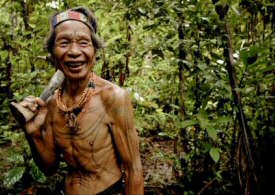 Our friends at Photogerson.com have just sent us a warming and fascinating set of photos of the Mentawai people. Luke and Kate have been in Indonesia for some time, you may remember last year we published their photo essay of the Mentawais.
Luke writes… We've just gotten back from a few days in the jungle with our friend Hendri. It's something that we've wanted to do for a while. A few hours upriver in a small canoe, a muddy trek for an hour or so, and a step back in time.
The Mentawai people are known for having on of the world's most fascinating and preserved indigenous cultures. Living in the ulu (jungle), they're completely in tune with their environment. For a pair of city slickers like us, it was a humbling experience and something not easily forgotten.
For now the modern world has little relevance to this remote part of the world, but traditions are slowly eroding. It may be that the Mentawai way of life may soon be a thing of the past.
If you're interested in learning more, our friend Rob spent a year living in the Mentawai. He's finalising a documentary project at the moment – check the trailer on his website (or watch below) and subscribe to his mailing list.