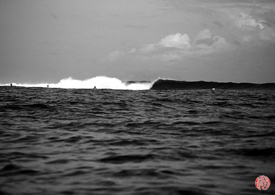 I guess most things start with an intro.
I like making photographs. Almost as much as I like surfing and tripping the globe looking at stuff.
So I stumbled across Drift a while back and a few months ago I summoned up the courage to offer up my portfolio for use as stock images – which has since developed into this… so you'll be hearing (or seeing and reading) a bit more from me in the future.
I've spent the best part of my twenties so far lugging surfboards and camera gear around the world on an overly extended surfing, work and photography trip. Like many surfers who keep a camera by their side, much of my photographic output is directed more at the things that I see along the way, a result of either travelling for waves or embedding myself in surf locales; looking in on this lifestyle of ours from somewhere out on the periphery despite being well and truly in the thick of it. I shoot on film using a range of old and semi-broken SLRs, a few vintage medium-format cameras and a holga. I dig analogue. I have a far from fancy and often inadequate kitbag but it gets me through – my money tends to go on flights and surfboards before replacing camera gear if the truth be told.
I draw a lot of inspiration from surf photographer/adventurers, and relate most to work by photographers such as Jeff Johnson, Joe Curren and Dustin Humphrey and Jon Rose as well as those from outside the world of surfing, most notably Chris Searl, Mike O'Meally and Andrew Paynter.
Cut to today, and I've been shivering my way through this snowy Cornish winter distracting myself from proper work putting together a tatty and rather bulging "surf trip scrapbook". It's just a glorified manila folder full of ideas, newspaper clippings and mud maps drawn on scraps of paper, the result of plenty of map gazing and those surfing secrets that people let slip once a few post session beers have lubricated their tongues. Hopefully at least some of these ideas will see their way to fruition and keep me inspired and on the road, both at home and abroad.
So here goes, I hope you like my pictures and my angle on this life of ours.
[imagebrowser id=40]