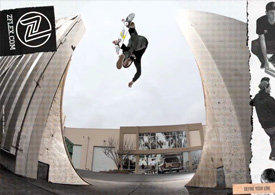 Surfing and skateboarding cultures have long gone hand-in-hand. The first skateboard is believed to have been created as an alternative for surfers who faced non-existent swells, while supreme balance, a cool head and an indefatigable dedication sets apart their followers from the rest of the pack. It was this natural pairing that led to the creation of the Z-Flex brand.
In 1975, Jeff Ho, Skip Engblom and Craig Stecyk of Zephyr Surf Shop approached Kent Sherwood, a fibreglass shop owner, with the idea of building their very own skateboard. The result was innovative, streamlined and popular. Capitalising on eager-to-prove-themselves surfers and California's record droughts, which resulted in empty, skate-worthy pools, the Zephyr team or Z-Boyz as they came to be known, reigned high on the burgeoning wave of skateboarding.
A year later, Kent Sherwood and half of the Zephyr team, including Jay Adams, Tony Alva and Jim Muir decided to branch off and establish their own brand, which eventually became Z-Flex. Over the years, Z-Flex has continued to showcase an edgy, innovative spirit that reflects its origins; from testing and developing urethane wheel designs to using concaves on the top-sides of boards, the brand is synonymous with originality and revolution in the skateboarding world.
This month, Z-Flex, the world's oldest skateboard brand still in operation has just introduced their 2014 range. Featuring quirky, cutting-edge designs, owning a Z-Flex board means owning quality, style and becoming a part of the Z-Flex story.