And so to the highlight of my European Tour…
It's Tuesday morning and I am still in shock from the weekend's series of events. Fortunately I am relaxing in the Brea Vean Surf House and have time to decompress.
I have been promoting wood surfboards for many years and for the most part it has been a long, uphill battle and, overall, the alaia has actually been the hardest board to sell. So imagine my excitement when I arrived at the beach to find more wood bellyboards than I could shake a stick at, and almost all of them far older than me. It was a like a dream!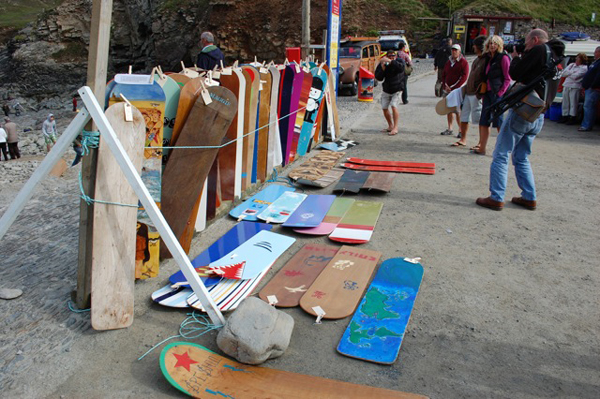 The wood bodyboard was enormously popular in Cornwall and Devon for the first half of the 20th century. Many hardcore surfers would pack up the family and head to the beach for the summer to get as many waves as they could. The wood bodyboard was in its heyday.
Oral tradition says that the boards started out literally as coffin lids that stoked surfers would wade out into the surf and ride in on their belly. Then the boards evolved into the modern wood bodyboard, about 14in wide, thin enough to flex in the wave, with a slightly turned up nose.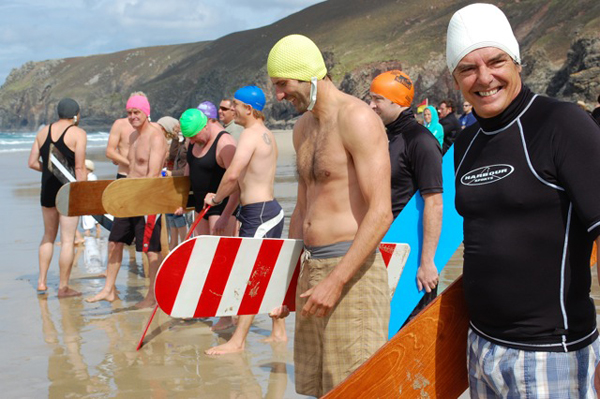 Although foam surfboards and boogie boards became far more popular than the wooden ones, the core old guard never faded away completely. They kept the fire of their stoke burning, loving the surf every summer. Six years ago, some called for a gathering of the last few as a memorial surf for an old friend. Since then, the gathering has grown every year to become a fantastic contest with 200 competitors
It is most impressive celebration of surfing I have every experienced. It seems that it's first about the respect for the elders that have been surfing for so very long – it's a party for them. Second it's a great day for the local surfers to let their hair down and enjoy the primal stoke of beach culture. Third, it's an introduction to the world of wood bellyboarding for the curious. There is an elegance to the surfing; there's a style not only to riding the wave, but to the dress, the attitude, the camaraderie on the beach. It is old school, and it hasn't changed for well over two generations.
I was sooooo impressed with the old fashioned bathers that were coming out. My wife looked hot in a new cozzie made from the old patterns and fabrics. Many people have caught the concept and have been running with the stoke, and nobody has done so more than Sally Parkin. She has ordered numerous alaia from an original bodyboard maker, and is selling them under her own label, The Original Surfboard Company. I think we be hearing a lot more from Sally. (Thank you for setting Margie up with that bathing suit…)
Here's me posing with John Isaac from Revolver. Some of the crew went a bit hard with the dress ups, but it really added to the atmosphere. It's all about fun.
The contest started with 20-minute expression sessions. One for the men and one for the women, and the number of surfers in the water were about the same for each. The water is very cold, so that is a very long heat. Did I mention that there are no wetsuits allowed? Only wool bathers if you have them. Then the heats are five minutes and you try to get three waves. Again, the water is so cold that you kind of freak out when you step in, that is unless you are over 70 – they don't seem to mind. There were a lot of long-time bellyboarders there; they just seem to keep coming out of the woodwork (ha ha!). The age divisions are under 16, 17 to 60, and over 60.
Entry to the contest is free, and you get a free cup of tea as well as endless Skinners Ale for a token donation to the local life savers. There are numerous competitions on the day including awards for the most stylish wave, best dressed, and a cake-baking contest.  My family and I won the furthest travelled, and Finley won the boys under-16 division. This is a big deal to Finley, and now he has a world title and I don't, which he reminds of more often than I care to mention.
RELATED: Wooden Surfboard: Interview with Arbo Surfboards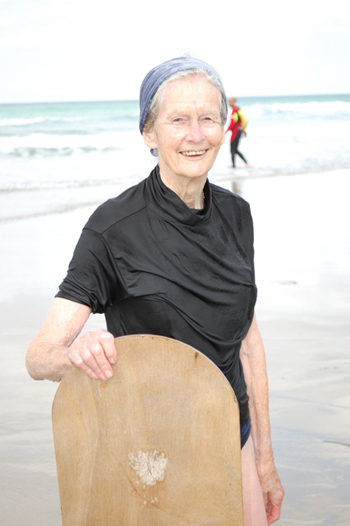 There is something really nice about the pulled-up nose on these wood bodyboards, because you can hold on to it and steer the board as you zip towards shore. I surfed one and really enjoyed it! Most of the riders waded out into waist-deep water and turned towards shore, pushing themselves into waves. They were having a blast, and this style of surfing is really quite enough to keep a hardcore surfer stoked up for a lifetime. There were plenty of examples of people that proved the point. I was most impressed with Charmian – she was in great form in the water and I was shocked to find she was celebrating her 86th birthday on the day of the contest. I kept taking photos of her and she asked my why. I said, "I think you are the most inspirational surfer I have ever met."
At the end of this blog is a photo of John Heath and his old surfing mate. The coffin lid on the left rode great – I saw him do a great cutback. John told me he used to crawl through barbed wire and brave the mines on the beach to grab a surf during World War II.  He was recently most surprised to read in the mainstream press that surfing was celebrating 50 years in the UK. He and his friends have been surfing for far longer than that!
I now have a few UK bodyboards, and I can't wait to go to the beach with my non-surfer friends and show them this way of riding waves. It's really easy and super fun! The thin wood gives you such a good feeling when riding the wave; it is far better than a foam boogieboard in small waves and it is super easy to do. This day influenced me a lot – I'm now looking forward to having a cup of tea on the beach, looking stylish, and then riding a few waves from waist-deep and trimming to shore.
Thanks for checking this out.