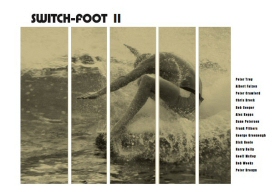 Did you enjoy Switch-Foot a few years ago? If so then you might want to keep a look out for Switch-Foot part two, which is currently making the rounds within the surf culture.

This is no ordinary surf book, it's one of only a few illustrated surf books I've got my hands on which merits the hype and fuss. The last one was beautifully crafted, with a wonderful page style and attention to detail. Each page contained a deep and reverant insight into the culture of surfing. Seen through the eyes of the elders, and not so elder, Switch-Foot was a celebration of book publishing, as much as a celebration of surfing.
The talented AC again produced this second version, who refers to his work as a dedication to the subculture within surfing. I always feel he has somehow done himself an injustice here, I think that you would be hard pressed to find someone who didn't enjoy his book, whatever corridor of the surfing world they tread.
Please visit Switch Foot for more info, some free downloads and whole lot more.