<

a href="http://www.driftsurfing.eu/index.php/archives/4525">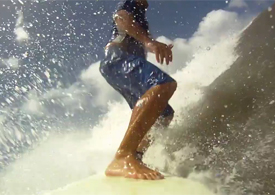 Our friend in Brazil, Luciano Burin, keeps us in touch with what's cool in Florianopolis. So when he sent me the link to this little film he's put together, I checked it out straight away. I know the sun has been making a break for freedom here in the West Country recently, but it's still not a patch on the rays out in Brazil. It's Luciano's grin in this film that really warms you though – he's just fooling around with a new camera and some editing software, but he's having a ball. Check it out…


The music's provided by Luciano's friend Marcos Garcindo, aka Duotonic.